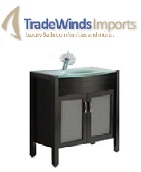 approximately 33% of U.S. households anticipate or plan on buying furniture at some point this year. This sales growth is especially evident in online retail, where buying trends have consistently increased over the decade
San Diego, CA (PRWEB) July 14, 2011
The economy may look bleak for online furniture retailers everywhere, but some companies - like Trade Winds Imports, in San Diego - seem to be growing stronger. The company has posted strong rankings since January of this year and has been consistently converting online traffic into sales of high quality bathroom vanities. Does this mean that online bath vanity sales are trending up? According to several market experts, as well as Trade Winds Imports' own analysis, this may very well be the case.
The economic climate for modern furniture retailers, and especially bathroom vanity vendors, certainly looks bleak.
While many industries and niches are beginning to recover from the massive recession, it seems like today's market is the last place you'd look to find buyers eager to invest in luxury furniture. This is especially true after the housing market took a second dip earlier this year. With the home looking less and less like a good investment, why would people pay for bathroom vanities, kitchenettes, and other appliances – all designed to boost the value of a home?
Despite the grim economic landscape, it seems that furniture purchases are still going strong. In 2010, over 33 million U.S. households bought furniture products for a combined total of over $83 billion in sales, according to Furniture Today's "Consumer Buying Trends" report from the same year. And the forecast for 2011 is equally bright: approximately 33% of U.S. households anticipate or plan on buying furniture at some point this year. This sales growth is especially evident in online retail, where buying trends have consistently increased over the decade as buyers became more and more comfortable with online purchases.
Just ask Trade Winds Imports, an online store dedicated to bathroom vanities, vessel sinks, bathroom lighting, and steam showers. The store has just closed its most profitable month in history, May of 2011, despite an economic climate that would ostensibly be a deterrent to non-essential purchases, and especially bathroom remodeling projects. Additionally, the store's online rankings in search engines such as Google suffered earlier this year in an algorithmic update to the search engine that favored big brands and recognizable corporations over small and mid-sized businesses. But in spite of that, the store has been making more sale conversions than ever before, despite reduced traffic.
"I think we've really just got great word of mouth now," says Todd Harmon, founder and president of Trade Winds Imports. "We've been in business for just shy of a decade, and while in the past we've enjoyed great rankings and lots of internet traffic, it's easy to see from our numbers that conversions are better than ever."
Harmon believes that part of his company's great success can be attributed to the quality of their customer service. "We've had so many people send us emails or phone calls saying 'my friend referred me, they had a great experience.' It's that experience that's so crucial to our business, the way we interact with customers – it guarantees sales for us, and phenomenal quality products for them!"
But why should online furniture stores be so successful in a time when many other industries are hurting?
Harmon speculates: "Gas prices have risen so much, and [the economy] just doesn't support lifestyles that are built around going out all the time, spending money on shows and lavish dinners, amusement parks, and all that – I think people are staying home and finding more ways of entertaining themselves at home."
"And if you're going to be spending that much time at home, you better make sure your home is comfortable and looks great! That's the real beauty of our modern bathroom vanities, and that's why furniture is still doing well in this economic era."
###