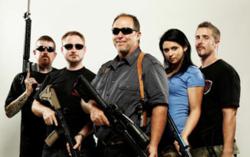 Meet the dynamic crew behind one of America's most skilled and creative gun works, Red Jacket Firearms.
Baton Rouge, LA (PRWEB) July 15, 2011
Welcome back to the Red Jacket crew! Base Camp Management's client cast of Sons of Guns Season Two have been announced: Will Hayden, Stephanie Hayden, Kris Ford, Vincent Buckles, Joe Meaux, Charlie Watson, Glenn Harrison and Glenn Fleming are ready for the challenges building custom weapons can bring, deep in the heart of Louisiana. This all-star team of craftsman are featured in Discovery Channel's hit series SONS OF GUNS, returning for a second season on Wednesday, July 13th at 9PM ET/PT.
SONS OF GUNS showcases one of America's most skilled and creative gun works, Red Jacket Firearms, and its founder, Will Hayden. While pursuing its bread-and-butter work with customizing and improving AK-47's, the Baton Rouge-based team delves into the world of historic and classic weapons. Keeping the bayou-based operation running is Will's daughter Stephanie. While she has been running the business side of things since the shop opened ten years ago, she is a weapons expert in her own right - and can out-shoot the best of them at the range.
Season Two of SONS OF GUNS Will, Stephanie and the crew of Red Jacket Firearms take on some of their toughest challenges yet. Can the team join three M16's together in what Will calls a Triamese? Is it possible to silence a grenade launcher? And what happens when the crew combines an AK and a sniper rifle? See how these amazing groups of eclectic gunsmiths build one-of-a-kind custom firearms and other weapons every Wednesday at 9 p.m. E/P starting on July 13, 2011.
SONS OF GUNS SEASON 2 (Cast represented by Base Camp Management):
Will Hayden - Will Hayden is the founding force behind Red Jacket Firearms. A native of the Baton Rouge, Louisiana area, his early exposure to guns came from his family — "country people with a shotgun" — who occasionally hunted. Red Jacket officially opened in 1999, when his first big order was a build of 20 AK-47s for an Arizona distributor. In exchange for a cut rate on the price, Will requested that his builds be listed as "Proudly Manufactured by Red Jacket" in advertisements. That banner caught the attention of Atlantic Firearms, a highly regarded dealer and distributor, and business boomed. Will's daughter Stephanie came on as a business manager and partner in the operation in 2003. The partnership has lead to Red Jacket's continued success as "the nation's most unique weapons business".
Stephanie Hayden - Stephanie Hayden grew up learning about hunting and the outdoors from her dad Will. For her 18th birthday, Will made her his partner and the business manager for Red Jacket. Now 25, she is known as the brains behind the Red Jacket operation. She manages the day-to-day business including the vast amount of paperwork involved in purchasing firearms, and keeps the orders running smoothly. However, Stephanie isn't just an administrator. She knows her guns too. In fact, she probably knows as much or more than many of the walk-in customers. Her favorite weapon depends on what she's shooting at the time, but she's fond of anything that Red Jacket builds — particularly the Suppressed AK-47.
Kris Ford – Twenty-eight-year-old Kris Ford has spent the last year working his way up the ladder at Red Jacket. Despite coming from a family of hunters and gun enthusiasts, Kris didn't consider himself a gun person. That all changed in 2009. That year, Kris met Will's daughter Stephanie Hayden at a party. Kris was in need of a job and Stephanie offered him an apprenticeship at Red Jacket. He started out by sweeping floors and now, under Will's tutelage, can build a gun from scratch. Kris that says his main job will always be "happily saying yes to Will" who has become a real mentor. In his free time, Kris likes to read, write and play music.
Vincent Buckles - Vincent Buckles is Red Jacket's lead gunsmith and a native of Detroit, Michigan. He was raised camping, fishing and backpacking on his family's property in Northern Michigan. Growing up, Vince was (and remains to this day) an Eagle Scout in Boy Scout Troop 1024. Vince started tinkering with guns prior to enrolling in the Pennsylvania Gunsmith School in 2002, which he graduated from in 2004.
Joe Meaux - Joe Meaux, age thirty-three, is Red Jacket's one-man development department. When Will comes up with a weapon design, it's Joe's job to determine if it can be built. But typically, when Joe says "it can't be done," Will says, "let's do it."
Charlie Wilson - Thirty-six-year-old Charlie Watson is a forensic firearms expert, but at night he moonlights as Red Jacket's technical troubleshooter. Charlie is a Baton Rouge native and attended Louisiana Tech University where he received a degree in Animal Biology. He then attended LSU where he received a Masters Degree in Natural Science. He has a passion for the science of weaponry. To Charlie, it's all about the precision and the physics.
Glenn Harrison – Glenn Harrison is an antique gun fanatic and Red Jacket's unofficial historic weapons expert. He is an active member of the reenactment community and a steadfast collector of guns. Glenn met Will Hayden at a Civil War Reenactment in 1989, and they have been friends ever since.
Glenn Fleming - Glenn Fleming is the newest edition and "welder" on the Red Jacket team. Glenn grew up a quintessential "military brat." His father was in the Air Force and the family moved from base to base. Glenn had some familiarity with guns through his father, but it wasn't until he joined the Air Force that he received his own extensive firearms training. Glenn became a Staff Sergeant as part of the 20th Special Operations Squadron and did multiple tours in Afghanistan and Iraq, as well as Africa and Bosnia.
In the first season of SONS OF GUNS, the premiere was watched by an average of 1.79 million people, making it one of the top five shows among men on Wednesday nights. In all of 1Q11, SONS OF GUNS finished as the #3 Wednesday night cable program among M25-54/M18-49 (excluding sports). Premieres of Sons of Guns averaged 1.29 HH / 0.83 P25-54 AA%.*
SONS OF GUNS is produced for Discovery Channel by Jupiter Entertainment. Stephen Land is executive producer, with Patrick Leigh-Bell as co-executive producer. For Discovery Channel, Dolores Gavin is executive producer.
Management Contact:
Pete Elkins pete(at)bcmanage(dot)com
(o) 225-216-8340
http://www.lacms.com
Base Camp Management
634 Connell's Park Lane
Baton Rouge, Louisiana 70806
###