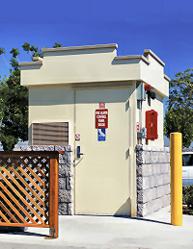 Los Angeles, CA (PRWEB) July 13, 2011
Responding to retailers' demands, B.I.G. Enterprises (http://www.bigbooth.com) has partnered with Costco Wholesale Corporation to deliver secure unmanned equipment shelters.
Today, Costco operates more than 200 gas stations throughout North America. Prefab equipment structures serve a functional role for the gas stations' security needs, because unlike most gas stations, at Costco, the equipment shelter is unmanned.
In an interview with Tim Hurlocker, Director of Gasoline Operations at Costco, Hurlocker explained why these shelters are necessary to their operations: "The original objective for the equipment shelters was two-fold: Guard the equipment and control the temperature around the equipment. We operate gas stations from Anchorage to Miami and from Hawaii to Minnesota. Though the outside may be very cold or very hot, we have to maintain a climate around all the gas station control equipment within a specific range."
"For increased security, we are now buying equipment shelters with a hotel style door with auto locking. The shelters contain a lot of control equipment—for the casual thief, there is nothing that they could resell, but we have to keep the casual thief out because they think they might be able to sell something," said Hurlocker.
For other security or facility planners in retail and commercial environments looking to use prefab structures, Hurlocker made the following suggestions:
Use self-locking doors. "It's human nature, people will prop them open and then you defeat your security. Plus, when they're propped open, they waste a whole lot of air conditioning and heating."
Windows are a good idea for an unmanned station. "This may seem counterintuitive, but when your employees enter these unmanned structures, they are blind to what's going on around them. The most valuable thing you've got working for you is the eyes and judgment of your people. Without windows, suddenly they are inside a dark cubicle. I would trade people seeing in versus my people seeing out anytime. If people can see in and see that there is nothing of value, you'll lower break-ins."
Secure your air conditioning opening. "Most equipment shelters have A/C units to condition the electric equipment. If someone can kick your A/C through the opening, the opening is big enough to crawl through. A bracket, or something that secures your A/C in the hole, is desirable."
More Information about B.I.G. Enterprises:
For over 45 years, B.I.G. Enterprises, Inc. of South El Monte, CA has engineered and manufactured high quality prefabricated booths for the security and parking industry. Their large selection of preassembled buildings includes guardhouses, cashier booths, portable buildings, bus shelters and a variety of custom made kiosks.
Utilizing a proprietary "Critical Span" manufacturing technique that increases convenience and strength in prefabricated structures, the B.I.G. team has booths protecting our nation's capital, nuclear power plants, international airports, colleges, universities and corporate offices.
# # #