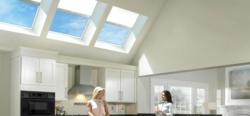 The No Leak Skylight provides abundant natural light, which will make your home brighter and feel more spacious. Also, you can operate the skylight and lightblock blinds with an RF remote puts you in full control of your living environment."
Port Coquitlam, British Columbia, Canada (PRWEB) July 13, 2011
Residents agree, Vancouver's weather in 2011 can be summed up as cloudy and overcast. As the region gets cloudier and cloudier, more homeowners are looking for new ways to boost the natural light inside. In fact, British Columbia has the highest ratio of skylight usage in Canada.
At VELUX, designers and engineers are reinventing the skylight to be more efficient and stylish. Gone are the days of acrylic bubbles and skylights that leave the room cold. Installing a skylight is a fast way to make any interior space lighter, brighter and more spacious without remodeling or undertaking a redesigning mission.
Although Vancouver is sometimes called Rain City, the area experiences more than 289 days of sunshine. In the summer, skylights mean more light for less energy. In the winter, they provide much needed daylight as well as passive solar heating. Seasonal affective disorder (SAD) has been receiving a growing amount of publicity as more people discover the positive health effects and wellness-promoting ability of the sun.
When the weather is dry, skylights are a great way to improve a home's natural ventilation system. Fresh air is proven to reduce airborne pathogens and contaminants. Skylights are an effective way to make sure stale air and indoor pollutants are removed completely. VELUX has been manufacturing vented skylights and roof windows since the 1940s, and the technology has come a long way since then.
Thanks to inventive engineering, VELUX developed the revolutionary "No Leak Skylight" that employs three layers of leak-stopping materials. VELUX skylights are also available with specially designed flashing that blocks water without relying on putty or sealers. With VELUX skylights, roof windows and solar powered blinds, leaks, extension poles and the problems associated with some older skylights are eliminated.
Fortunately, Vancouver is sunny enough to support roof-mounted solar water heating systems that stabilize utility costs and drastically reduce hot water expenses. VELUX has also harnessed the power of the sun to operate solar blinds and shades. Imagine colorful blackout shades and blinds that open and close with the touch of a button. Homeowners finally have an alternative to extension poles.
The team of do-ers and thinkers at VELUX has also pioneered the innovative Sun Tunnel Skylight that allows a tubular skylight to be installed in dark areas that do not have direct roof access. With VELUX Sun Tunnel skylights available in two diameters, homeowners have even more control over the natural light they let into their houses.
"The No Leak Skylight provides abundant natural light, which will make your home brighter and feel more spacious. Also, you can operate the skylight and light block blinds with an RF remote puts you in full control of your living environment." says Mark Taylor, Regional Sales Manager Western Canada from the VELUX Port Coquitlam showroom.
For more information on skylights in Vancouver, Canada, contact VELUX.
ABOUT VELUX:
Established in 1942 by the forward-thinking Villum Kann Rasmussen, VELUX is a global leader in bringing natural light and ventilation into the home. The VELUX Group has worked hard to develop the Sun Tunnel, solar-powered blinds and solar thermal hot water heating systems. Today, the company continues their dedication to developing new solutions that create a better living environment for tomorrow.
Contact:
VELUX head office
2740 Sherwood Heights Drive
Oakville, Ontario, Canada
VELUX Western office
#305-1515 Broadway Street
Port Coquitlam, British Columbia, V3C 3M2
Ph: +1 800 88-VELUX (1-800-888-3589)
###