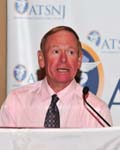 The ATSNJ feels we are once again providing quality concussion education to healthcare providers in New Jersey.
Wayne, NJ (PRWEB) July 13, 2011
The fall sports season begins next month in New Jersey and with it marks the first year of the newly adopted New Jersey Department of Education concussion policy recommendations. The proper identification and management of sports concussions is crucial when trying to prevent the very serious and potentially catastrophic Second Impact Syndrome, a dangerous condition that can occur if an athlete returns to sports before full recovery.
The Athletic Trainers' Society of New Jersey (ATSNJ) is one of the driving educational forces for sports concussion management in New Jersey. Robert Cantu, MD, a preeminent sports concussion researcher and expert, who has served as a consultant to many scholastic and professional athletes on the return to collision sports after a head injury, will discuss his research on concussions as part of a roundtable discussion on the topic. In addition to Dr. Cantu, the ATSNJ has assembled a group of nationally and regionally known medical experts in concussion management to address sports-related concussions — from the initial identification of a concussion to return-to-play guidelines.
Reporters are invited to attend the roundtable discussion and ask questions to the panel of experts.
WHEN:
Sunday, July 17 at 10 AM
WHERE:
Wyndham Princeton Forrestal Village and Conference Center
900 Scudders Mill Rd., Plainsboro, NJ
PARTICIPANTS:
Robert Cantu, MD
Medical Director, National Center for Catastrophic Sports Injury Research, Chapel Hill, NC and Co-Director of the Neurological Sports Injury Center, Brigham and Women's Hospital, Boston, MA
Steven Broglio, PhD, ATC
Assistant Professor
Director, Neurotrauma Research Laboratory School of Kinesiology
University of Michigan , Ann Arbor, MI
Jason Mihalik, PhD, CAT(C), ATC
Assistant Professor
Matthew A. Gfeller Sport-Related Traumatic Brain Injury Research Center
Department of Exercise and Sport Science
University of North Carolina, Chapel Hill, NC
Margot Putukian, MD
Director, Athletic Medicine Services
Team Physician, Princeton University
Joseph Rempson, MD
Chairman, Department of Rehabilitation
Director Atlantic Neuroscience Concussion Center
Overlook Hospital, Summit NJ
Complete list of speakers is available at atsnj.org/concussion.
Every year, thousands of student athletes sustain concussions that may cause permanent brain damage. According to the Centers for Disease Control and Prevention an estimated 1.6 to 3.8 million sports and recreation related concussions occur in the United States each year. Concussions occur even if an athlete doesn't lose consciousness and in fact, is the most common type of brain injury sustained in sports.
ABOUT THE ATHLETIC TRAINERS' SOCIETY OF NEW JERSEY
ATSNJ, Inc. consists of Licensed Athletic Trainers, physicians and other allied health care professionals whose goal is to promote quality healthcare for athletes in any setting. For more information, visit the ATSNJ online at atsnj.org.
# # #