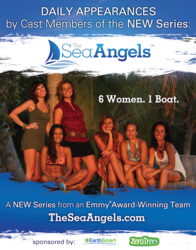 Six women. One boat.
Helping those in need.
What's not to like about that?
Tampa, FL (PRWEB) July 21, 2011
The Sea Angels Production Team is currently editing footage for an episodic show about six women traveling the world in a boat, helping local non-profit organizations. Through a unique "Robin Hood" approach of connecting those in need with those with means, they make fundraising, sustainability and social responsibility an adventure worth watching. The Sea Angels Emmy-nominated team will have you sailing on their boat, walking in their shoes and seeing life through their eyes. It's a New Reality, where women are empowered to help those in need through sustainable, socially responsible actions.
Sea angels cast members reveal concept promo at icast las vegas, courtesy new sponsor earthsmart products.
The Sea Angels concept video was released publicly at the ICAST Show in Las Vegas on July13-15, 2011 and on the Web through YouTube. Cast members Jacqui Taylor and DJ Daneekah were on hand to meet fans, sponsors and Networks who attended the international show. "It was a thrill and an honor to meet so many people who embrace our vision of impacting the world by helping one non-profit organization at a time", said Jacqui, a cast member and VP hailing from Australia. DJ Daneekah, formerly an Aussie now a San Francisco native, echoed the sentiments: "It's hard to imagine when you're filming in a remote location such as the British Virgin Islands that our show connects with people from New Mexico, Milwaukee, Houston, New York, Europe, Australia, Asia, Africa, South America and everywhere between. The reaction we got clearly shows that it does." EarthSmart Products, a leader in Sustainable disposable Zero Trees™ products for boating, camping, fishing and RV, hosted The Sea Angels as a key sponsor. For more on EarthSmart and what Zero Trees Products are doing for the environment, go to http://www.earthsmartllc.com.
About the Sea Angels:
The Sea Angels are six inspired, global women embarking on a sustainable sailboat journey to some of the world's most exotic locations, driven to make the greatest impact possible - one stop at a time. The Sea Angels mission is to provide a voice for environmental and social issues, a vehicle for spotlighting local NGOs, and to connect local charities with those who can help. For more information about The Sea Angels and to learn how you can help or be involved, please contact us at info@theseaangels.com and visit http://theseaangels.com.
For more information, contact:
Todd Caouette
Executive Producer
The Sea Angels
727-867-3080
Todd(at)TheSeaAngels(dot)com
http://www.TheSeaAngels.com
###