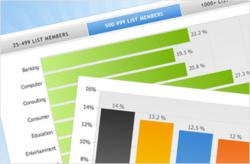 Sunday generated considerably high open and click rates compared to the rest of the week.
Rockville, MD (PRWEB) July 19, 2011
Email marketing service provider, MailerMailer, has released its eleventh Email Marketing Metrics Report. This free report examines nearly 1 billion email messages, showing valuable data on click, open and bounce rates as well as trends in personalization and subject lines.
The goal of the Email Marketing Metrics Report is to analyze and report on current trends, offer valuable best practice tips and educate marketers on how they can measure and improve the overall effectiveness of their own email campaigns.
Equipped with interactive charts and an abundance of data, email marketers are able to easily compare their own trends against others in the same industry.
Additionally this report reveals interesting statistics such as:

Click rates increased YoY to 3.2% and 2.9% during the first and second halves of the year, up from 2.6% and 1.6% respectively
Sunday generated considerably high open (12.2%) and click rates (4.4%) on average when compared to the rest of the week
The highest volume of opens occur between 6 and 11 am local time
Clients that sent emails less than once a month experienced a bounce rate of 5.1% while those that sent daily saw a much lower bounce rate of 0.4%
Personalizing the email subject line generated 0.8% click rate, while personalizing the message boosted click rates to 3%
Subject lines consisting of 4 to 15 characters generated the highest open rate of 14.1%
"Email marketing is extremely measurable and we have a great amount of data at our fingertips," says Raj Khera, CEO of MailerMailer. "This report is provided for free as a community service to help businesses improve their email marketing effectiveness."
View the complete report including a "tag cloud" showing the most frequently used words in email subject lines at: http://www.mailermailer.com/resources/metrics/index.rwp
About MailerMailer
MailerMailer is an award-winning do-it-yourself email marketing and list management provider. Equipped with the latest email marketing technology, such as zip code radius targeting, image hosting and fetch HTML from website feature, MailerMailer allows easy creation of professional email newsletters and campaigns. A free trial of this email newsletter service is available at http://www.mailermailer.com.
MailerMailer is part of a series of sites run by Khera Communications, which includes discussion group management tool DiscussThis, small business resource site MoreBusiness.com in addition to personal and business goal setting site Top3Goals.com.
About the Email Marketing Metrics Report
MailerMailer's Annual Email Marketing Metrics Report is an online, interactive report that illustrates current industry benchmarks, email marketing statistics and relevant industry trends. Using data collected for an entire year, the report provides benchmark statistics on click rates, open rates and even best days to send, among other vital metrics. It analyzes performance of various industries and list sizes, providing several interactive charts displaying the latest email marketing trends and best practice tips for email marketing professionals.
Since it was first produced in 2004, the Email Marketing Metrics Report has been recognized and awarded by several prominent organizations. In 2011, the report has won awards from The Communicator Award, Magnum Opus, Apex and The American Business Awards who honored MailerMailer with a Stevies Award.
###