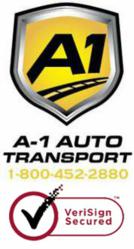 Aptos, CA (PRWEB) July 13, 2011
A-1 Auto Transport is now offering their users ultimate virtual protection and safety by way of the "VeriSign Trust Seal". A-1 Auto Transport has been a leading provider of car shipping services in the U.S for over 22 years, but in recent years they have truly stepped up their efforts to provide complete customer satisfaction and privacy to their users in the United States and throughout the world.
The internet can be an incredibly dangerous tool if not used carefully. There are many different viruses throughout the World Wide Web that are just waiting to infect your computer. A-1 Auto Transport recognizes this and has upped their security by signing on with Symantec, the creators of Norton Anti-Virus, to provide full protection and increase user confidence when using the A-1 Auto Transport website for car or motorcycle shipping services. You can find the VeriSign Trust Seal certification in the right hand side of the website.
By using the technology provided by VeriSign, the A-1 Auto Transport website, and their users are now better protected to monitor and defend against any incoming malware. Malware is a broad term that is associated with pretty much any form of malicious software or program. If software or programs are created with the intent of infecting or harming a computer, or spreading to other computers without the users consent, then it is considered malware.
Malware comes in a variety of forms, most of which are invisible to the user, and can do significant amounts of damage to a computer. Some of the most common forms of malware include computer viruses, spyware, and Trojan horses. These forms of malware can infect your computer, corrupting files and eliminating privacy barriers, and then spread on to others via your e-mail.
With the certification, VeriSign now does daily sweeps of the A-1 Auto Transport website to ensure that no malicious coding or programming has found its way through the firewall in an effort to protect the website and users on the A-1 Auto Transport website. This is great for their users because it allows them to know that any information that they share with A-1 Auto Transport concerning their car shipment will not be stolen or misused. VeriSign verifies the identities of all of its users to make sure that their website is a legitimate resource rather than a deceptive piece of malware. If a company has the VeriSign Trust Seal, you can be feel much safer that any information you give to that company is safe. This can be a huge relief by eliminating all the usual anxiety that comes along with giving information or making purchases over the internet.
A-1 Auto Transport offers a number of online services, so it is vital that they be able to protect their users. Currently A-1 Auto Transport is offering free quotes from the top car transport companies, and the process is as simple as it can be. Their website provides a form that requests minimal information in order to find out what services you require. Upon completion of this form, the simple click of a button will have your auto shipping experience underway.
For more information about A-1 Auto Transport, please visit http://www.a1autotransport.com/.
###