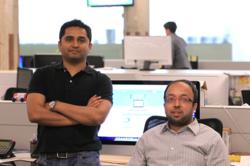 Washington, DC (PRWEB) July 20, 2011
Ujjwal Gupta and Ashish Rangnekar, co-founders of BenchPrep, an online and mobile learning company based in Chicago, were invited to participate in a day long event at U.S. Chamber of Commerce and White House to discuss ways to boost entrepreneurship amongst young Americans. The event was organized by OUR TIME, a national, non-profit membership organization founded to stand up for American entrepreneurs under 30 and marked the launch of Buy Young initiative.
The day long event that included the Buy Young Launch, Press Conference, and Luncheon was held in Washington D.C on Wednesday July 13th and was attended by Margaret Spellings, (Director of National Chamber Foundation and former Secretary of Education), Ed Rensi (former CEO of McDonalds), Barry Diller (Chairman, IAC), Senator John McCain (R-AZ), Senator Kirsten Gillibrand, (D-NY) and various other business leaders.
BenchPrep, founded by Ujjwal Gupta and Ashish Rangnekar, is a learning platform where students can study for any subject on any device (iPhone, iPad, Android, and web) in an interactive, personalized, social and game-like way. BenchPrep partners with with best in class publishers including McGraw Hill, Cengage Learning, John Wiley to provide courses for standardized test prep, math, science, language, professional certifications and more. It's world's first and only learning solution that keeps the student's learning history and performance in sync across web, mobile and tablet devices.
The company was voted "most innovative and best-in-class test prep and assessment platform" at the 2010 Education Innovation Summit and won the 2010 New Venture Challenge competition at the University of Chicago Booth School of Business. Since 2009, more than 150,000 students across 20 countries have used BenchPrep products.
Gupta and Rangnekar joined over 100 other young entrepreneurs including Ricky Van Veen (College Humor), Matt Mullenweg (WordPress) and Alexis Maybank (Gilt Groupe) in the Buy Young initiative to reinforce the fact that young Americans are major contributors to the success of the U.S. economy and key drivers of job creation.
The goal of OUR TIME's Buy Young initiative (http://www.ourtime.org/buy-young/) is to encourage Americans to support companies and organizations founded by entrepreneurs under the age of 30 and offer exclusive discounts on products and services to OUR TIME's fast-growing subscriber base of more than 300,000.
The entrepreneurs attending the conference alone have created over 7,000 jobs altogether.
More details are available on Benchprep.com and http://www.ourtime.org.
OUR TIME is a national organization founded and run by young Americans, leveraging pop culture, business partnerships, and online organizing to drive civic engagement through economic empowerment. To follow OUR TIME on Facebook go to: http://www.facebook.com/OurTimeOrg. Or to follow OurTime on Twitter, go to: http://www.Twitter.com/OurTimeOrg.
BenchPrep is an educational technology company based in Chicago and funded by Lightbank Venture Capital Fund. BenchPrep learning solution is world's first and only cross-platform app that aggregates content across various publishers and creates a social, game-like learning environment. For more information, please visit benchprep.com or follow BenchPrep on Facebook facebook.com/BenchPrep or on Twitter at Twitter.com/benchprep
# # #