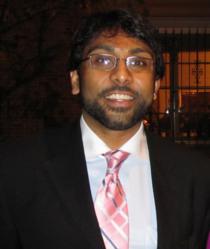 Nagesh's extensive knowledge of the Washington cleantech circuit will add to OnGreen's stamp on the D.C. region
Los Angeles, CA (PRWEB) July 13, 2011
With the uptick in cleantech innovation and the advancement of cleantech policy in Washington, OnGreen has announced its first hire from Capitol Hill. G. Nagesh Rao will be joining OnGreen as their newest Director of Business Development. His role will center around building new corporate and key government relationships that help cleantech companies find capital and tap the global market while representing the world's largest cleantech marketplace. Rao will report directly to OnGreen CEO Nikhil R. Jain.
Rao recently served, on special assignment from the United States Patent and Trademark Office, as a Senior Policy Advisor for the Department of Commerce's Office of Innovation and Entrepreneurship. Wherein he was a co-creator of the i6 Green grant challenge (a deliverable for the White House's StartUp America Initiative) and also helped coordinate the efforts of Secretary of Commerce Gary Locke's National Advisory Council on Innovation and Entrepreneurship.
"Nagesh's extensive knowledge of the Washington cleantech circuit will add to OnGreen's stamp in the D.C. region," says Jain. "Nagesh has the unique ability to monitor intellectual property trends and pinpoint companies or organizations that would benefit most from OnGreen's deal and patent marketplace."
Prior to joining the federal government in 2004, Rao was a Mirzayan Science and Technology Policy Fellow for The National Academies as well worked as a Marketing Associate for Rensselaer Polytechnic Institute's Office of Technology Commercialization. He holds a BSc dual-major in Materials Engineering and Philosophy from Rensselaer Polytechnic Institute, a MSc in Intellectual Property Law from Albany Law School, and a MBA from the Robert H. Smith School of Business at the University of Maryland-College Park.
The hiring announcement will kick off OnGreen's week on Capitol Hill, which commences with Jain speaking on cleantech investment and financing at the 2011 International Clean Energy Economy Conference.
About OnGreen
OnGreen is the world's largest cleantech marketplace. Members from across the globe work together, connecting the best ideas in cleantech to funding and expertise, translating IP into ROI. With thousands of entrepreneurs, investors, and business and technology experts spanning 35 countries, it's never been easier to connect with the people and resources needed to turn today's energy and environmental challenges into business opportunities. OnGreen is headquartered in Los Angeles with offices in Shanghai. Connect with the world's leading cleantech investors at http://www.ongreen.com.
###