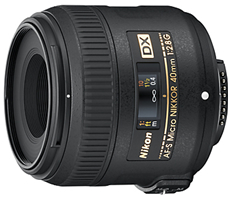 Our new NIKKOR lens lets users explore a totally new perspective
(PRWEB) July 13, 2011
On Tuesday, July 12, 2011, Nikon Canada introduced the new lightweight and versatile AF-S DX Micro NIKKOR 40mm f/2.8G lens to provide Nikon DX-format shooters macro capabilities at an affordable price point. This lens is ideal for intimate details or general portraiture. The new AF-S DX Micro NIKKOR 40mm f/2.8G lens has a minimum focusing distance of just 0.163m (6.4 inches) to allow users to capture extreme close-up photographs and High Definition (HD) video with a life-size 1:1 reproduction ratio.
"Our new NIKKOR lens lets users explore a totally new perspective, whether it's extreme close-up detail or general still images and movies with pleasing out-of-focus elements," said Gregory Flasch, National Advertising and Communications Manager, Nikon Canada. "It's an ideal accessory lens delivering new and added versatility to the Nikon DX-format digital SLR system and provides DX-format shooters with compact optics that deliver excellent colour reproduction and stunning sharpness."
Price and Availability
To date the new NIKKOR 40mm f/2.8G lens is retailing for $299.99 in Canada. Henry's is proud to announce that the versatile AF-S DX Micro NIKKOR 40mm f/2.8G is scheduled to be available in late August. The ability to pre-order the NIKKOR 40mm f/2.8G at all of their retail locations and on http://www.henrys.com will be available shortly.
About Henry's
Henry's has long been known in the Canadian photographic industry as the source for the best and newest products such as digital cameras and video cameras, as well as informed Imaging Experts, award-winning customer service and competitive pricing. Henry's, a Canadian family owned and operated business, first opened its doors in 1909 and has evolved into Canada's largest independent photographic and digital retailer. Henry's carries 8500 products in stores across Ontario, the Henry's Outlet Centre and on http://www.henrys.com from such major manufacturers as Canon, Nikon, Fuji, Olympus, Sony, Pentax, Panasonic and Epson.
Exclusive Canadian Warranty.
Nikon Canada offers a five-year warranty for all NIKKOR lenses purchases from an Authorized Nikon Canada Dealer. Consumer's investment is protected by Nikon Canada's warranties with in-Canada service
###.