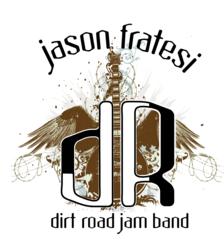 Jason has an incredible vocal range and style in the class of John Fogerty, Delbert McClinton and others! He is a "Delta Country Rock" singer/songwriter you will definitely want to check out! -- Rick Holt
Jackson, MS (PRWEB) July 13, 2011
Lowland Music Company announces today the release of the debut album for Jason Fratesi & The Dirt Road Jam Band Cryin' Out Loud; a rich blend of traditional country, southern rock and blues that features the bold voice of Greenville / Leland area and Mississippi Delta native Jason Fratesi.
The album is currently available via digital distribution on I-Tunes and Amazon.com and will be available at most other online retailers including Pandora and Rhapsody within a couple of weeks. The CD will be available for purchase on July 29th, at Philip's on the Rez in Ridgeland, Mississippi (Jackson, MS area), followed shortly thereafter on the band's website . The CD release party will serve as both a CD launch and a going away party for founding member 2nd Lt. Ray Billman, the band's bassist, who is shipping off for to Iraq for four hundred days at the height of all of the excitement.
Cryin' Out Loud has a great mix of songs on it from band written originals like the album title inspiring, soul searching sounds of "Heart Cryin' Out Loud" to the rock-the-boat vibe of "Thunderbird Crossway, Ferguson Rd" (a song inspired by life in the Mississippi Delta); as well as covers of Delbert McClinton's "Everytime I Roll The Dice," The Rolling Stone's first #1 hit - "It's All Over Now," and Jason's all-time favorite - artist Bonnie Raitt's "Love Has No Pride."
Collaborating on the album are some of the top studio musicians in the world: Reese Wynans, Michael Rhodes, Chad Cromwell and Jack Pearson, amongst others, as well as regular band members Jeff Mathews, Ray Billman, Freddie Hart and Bill Coppage.
The album was produced in conjunction with Rick Holt Music Production, a highly successful Nashville music producer known for his ability to pick great songs and produce incredible vocals. Rick Holt and his partner Norro Wilson have worked with a veritable who's who of the country music world including artsist such as Kenny Chesney, Reba McIntyre, John Michael ontgomery, Shania Twain, Mindy McCreedy, Sara Evans, Chely Wright, George Jones, Tammy Wynette, Charlie Rich, Mickey Utley and Lathan Moore; and Rick is currently working with Lady Antebelum. Rick had some pretty incredible things to say about Jason : "Jason has an incredible vocal range and style in the class of John Fogerty, Delbert McClinton and others! He is a "Delta Country Rock" singer/songwriter you will definitely want to check out!"
The band is currently in the process of gauging fan reaction and trying to pick their first single to put out through the Nashville circuit and is looking for opinions from all walks of country music fans. You can preview the album at http://www.dirtroadjamband.com/music.php .
Find Us:
http://www.jasonfratesi.com
http://www.facebook.com/DirtRoadJamBand
http://www.twitter.com/JasonFratesi
http://www.youtube.com/DirtRoadJamBand
For interview requests, appearances and media inquiries please contact:
Calvin Seymour
Lowland Music Company
P: (601) 519-0093
E: webmaster(at)dirtroadjamband(dot)com
###