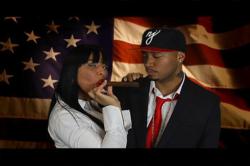 Jersey City, NJ (PRWEB) July 14, 2011
Bizz the Prince's debut album titled "Prince of Jersey" 2.0 was released on April 19th, 2011 via Blakglobe Records & Trinet Entertainment Group. It features DJ Kay Slay the Drama King, Q. Parker of the legendary group 112, Freeway of Rocafella/State Property, Wu-Tang affiliate Kinetic9 & Ho2fa with Production from 4th Disciple.The album is supported by Bizz's controversial single "Monika Lewinski." This record was brought to life when the Jersey based rapper was approached by a female in a Miami nightclub who offered to perform an explicit act in the VIP section of the club after Bizz & Freeway hit the stage.
The uncensored version of the video "Monika Lewinski" will debut in mid July.The video features video vixen Ashley Logan aka "The Backshot Queen" who allegedly dates NBA standout Dejuan Blair & a cameo from former State Property star artist Philadelphia Freeway.
Bizz was asked in an interview what you think Bill O'Reilly would have to say about this song/video. The New Jersey based rapper replied "It probably doesn't happen to Bill much so he can't relate to it. I know Bill doesn't like Hip-Hop, especially this type of song but after seeing the video he will become a fan." Bizz recently debuted his single "Monika Lewinski" on Shade 45's Streetsweeper Radio in a recent interview with DJ Kay Slay. Download the album on iTunes now at http://itunes.apple.com/us/album/prince-of-jersey-2-0/id424658750
To follow Bizz online you will find him @ twitter.com/bizztheprince, facebook.com/bizztheprince, and/or youtube.com/bizzonline.
CONTACT
BLAKGLOBE RECORDS
EMAIL:BLAKGLOBEMEDIA(at)GMAIL(dot)COM
P.O BOX 1012
BLACKWOOD, NJ 08012
###