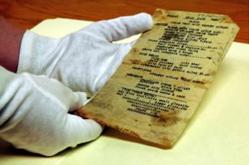 "The previous methods available for imaging delicate materials or old books were cumbersome and not condusive to the handling of fragile materials." Anne Dondertman, Assistant Director, ThomasFischer Rare Books Library, University of Toronto
Nashville, TN (PRWEB) July 13, 2011
At the NAGARA-CoSA conference, Ristech will demonstrate the book2net Spirit, the first entry-level high-resolution book scanner designed for fast and simple public use in archives, libraries, museums and other institutions and organizations. The exhibit runs from 9:30 a.m. to 3:30 p.m. on July 14.
"Archivists know how important it is to take the best possible care of documents, which is why the Book2net book scanners are so popular among those who deal with precious, delicate and historical materials. Our scanners are very gentle on books and fragile documents, not to mention that they save time, money and energy for organizations of all sizes," said Robb Richardson, president, Book2net, North American Operations.
The theme of this year's NAGARA-CoSA meeting is Sweet Harmony & Solid Gold, with archiving sessions and exhibitions "worth their weight in gold." The annual meeting takes place at the downtown Nashville Sheraton Hotel.
About Ristech Company
Ristech Company is a leading distributor of document management and micrographics solutions for the Canadian and U.S. markets. Formed in 1995, we have built our name on a commitment to providing companies with leading-edge technology, convenient service offerings, and the expertise and knowledge required to support these technologies. For more information, please visit http://www.ristech.ca.
About book2net Inc.
book2net Inc. is an international alliance of manufacturers, libraries and service providers that design and produce book scanning technology. With an installed base of more than 500 clients including the Library of Congress, the British Library, National Archive of Sweden and many leading academic libraries in North America, book2net develops technology from the ground up with end users at the table. For more information, visit http://www.book2net.net.
###