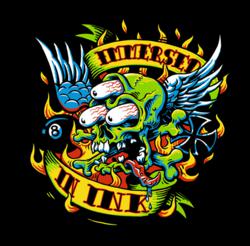 "Tattooing and Piercing used to be a taboo form of expression but is now widely accepted as a mainstream art form throughout the World"
(PRWEB) July 15, 2011
Immersed In Ink today announced the arrival of Kentucky's most prestigious Alternative Arts Festival to the Kentucky International Convention Center on August 12-14. This festival will host some of the nations' hottest Tattoo Artists and is open to the public for live tattooing, gut wrenching sideshows, human suspension and more. Patrons can enter their tattoos in contests or just come watch artists express themselves in this alternative art medium. In addition to tattoo artists from all over the world, the show will feature many different vendors selling merchandise from clothing to tattoo supplies and beautiful hand crafted art. Entertainment includes a comedy/magic stunt show by John Shaw and the Original Synners, A sideshow performance by Rob Hill and Live Human Suspension.
"Tattooing and Piercing used to be a taboo form of expression but is now widely accepted as a mainstream art form throughout the World," said Shannon Gutierrez, owner of GFORCE Productions explains in an interview with Immersed In Ink Magazine. "This festival promotes this alternative form of expression and provides patrons with the opportunity to learn about the culture and beauty of art in this medium. Tattooing, Piercing and Scarification (Body Modification) began many centuries ago with Polynesians and many other tribes who ceremonially labeled their kind. One could determine marital status, wealth, tribal status and so much more just by looking at tattoos. Tattoos were popularized in Western civilization in the 60's and became much more prevalent in the 80's with rock stars and hippies. Today, with more and more demand for the art and less risk involved with getting tattooed, Artists have learned to do amazing things with the Human Canvas. Immersed In Ink began producing shows 6 years ago throughout the US and this is the seventh show in our 2011 tour across the US. This festival will feature some of the best artists from all over the world to showcase their talent and win awards."
Immersed In Ink Magazine will be covering all three days of the event in this free industry publication and will be conducting an Alternative Model Search all 3 days of the event. The winner will receive a multiple page spread in the Magazine and will also be featured on the cover of that issue. The show is opened on Friday, August 12th from 2 p.m.-10 p.m., Saturday, August 13th from 11:30 a.m.-11p.m. and Sunday, August 14th from 12 p.m.-8 p.m. Admission is $20 for the day or $35 for the weekend. All entertainment is included in the admission price.
Immersed In Ink Tattoo & Arts Festival is sponsored by Austin Dermagraphix Tattoo and Authentic Ink. More information about the festival can be found at http://www.TattooFestival.net
Louisville Tattoo & Arts Festival - August 12-14, 2011
Albuquerque Tattoo & Arts Festival - September 9-11, 2011
Reno Tattoo & Arts Festival - October 28-30, 2011
512-363-6788
admin(at)immersedinink(dot)com
###