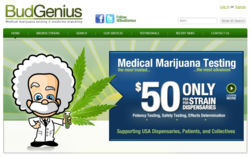 We intend to spark a proactive movement for safe medicine and we invite the media to take an active role in this process.
Los Angeles, CA (PRWEB) July 13, 2011
BudGenius.com, a social networking website and medical marijuana testing laboratory, announced today it is introducing a $250,000 program for the development of 25 websites to be built for qualifying medical marijuana dispensaries. BudGenius aims to show that an effective social web strategy will fully offset the cost of medical marijuana testing.
"We have a problem in the medical marijuana industry," explains Angel Stanz, co-founder and President of BudGenius.com. "Many caregivers are distributing marijuana that is potentially contaminated with harmful mold and pesticides, while therapeutic dosing is rarely explained. Handing untested medicine without potency guidelines to patients is medically irresponsible."
An internal study performed by BudGenius.com shows that less than one third of all dispensaries surveyed in California test their medicine for safety and potency. Of those currently testing, less than 25% maintain strict protocols to keep their catalog up to date. The most common reason cited for not testing medical marijuana is a lack of available net income, while a smaller percentage cited that they did not feel testing services added a benefit to their operations. Nearly all dispensaries were aware of available testing services.
"The Green Rush is over," said Stanz. "Dispensary owners are entrepreneurs faced with financial difficulties similar to those of all small business owners. Our free website program aims to alleviate a portion of that financial pressure, while proving the efficacy of medical marijuana testing. We're confident this program will publicly demonstrate that BudGenius services, combined with an effective social web strategy, will result in an improved net return. We intend to spark a proactive movement for safe medicine and we invite the media to take an active role in this process."
Qualifying dispensaries are required to test 20 or more strains per month to display their commitment to testing their medical marijuana catalog. Dispensaries are also required to engage their patient base by utilizing product inserts and offering opt-in advertising via email and Twitter. BudGenius will guide the development of each website by utilizing their in-house development teams. Each website will also serve as beta platform for socially interactive features that BudGenius plans to introduce later this year. Traffic analysis services are included to determine the most effective content presentations across a variety of demographics.
Medical marijuana dispensaries are encouraged to visit http://BudGenius.com/freewebsite.html to learn more about this program.
About BudGenius.com
BudGenius.com is a social networking website, and leading provider of medical marijuana testing services located in California. In addition to safety screenings, BudGenius provides a unique rating system to assist patients in selecting marijuana strains more likely to efficiently treat specific medical conditions.
Contact:
Angel Stanz – President
BudGenius.com
+1 (855) 723-3283
angel(at)budgenius(dot)com
http://budgenius.com