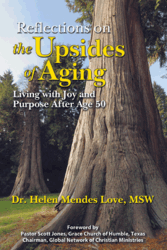 Humble, TX (PRWEB) July 14, 2011
With its anti-aging messages, secular media tells the world that after 50, life is nothing but a slow decomposition until the body finally gives out. However, not everyone fears the inevitabilities of aging and mortality. The new book, Reflections on the Upsides of Aging: Living with Joy and Purpose After Age 50 (published by WestBow Press) written by Dr. Helen Mendes Love, uses the lens of the Holy Bible to remind us that aging is a gift of God.
In Reflections on the Upsides of Aging, Mendes Love uses the examples of 75 year old Abraham, 80 year old Moses and other biblical and modern people over 50 to show how right-living men and women can still live productive lives as they age. Facing the reality of mortality, Mendes Love encourages readers to take hope from 2 Corinthians 4: 16 (NKJV) which says, "Therefore, we do not lose heart. Though outwardly we are perishing, inwardly we are being renewed by God day by day." By cooperating with God in this daily spiritual renewal, maturing Christians will "still bear fruit in old age; they shall be fresh and flourishing." (Psalm 92:14)
Citing the Holy Bible, social science research and real life examples, Reflections on the Upsides of Aging demonstrates how, in partnership with God, one can use one's life experiences, wisdom, social networks, and finances to serve one's family, church, community and the world as Senior Ambassadors for Christ. One can grow old, energized by a sense of purpose, committed to leaving legacies that bless others for generations to come.
About the Author
Dr. Helen Mendes Love earned her master's degree in social work at Columbia University and her doctorate at [UCLA. Additionally, she studied theology at Fuller Theological Seminary. She has served on the faculties of UCLA, University of Southern California and Pepperdine University. She has given hundreds of speeches and seminars for churches, non-profit, for-profit, governmental and volunteer organizations and has been a guest on multiple TV and radio programs. She has also authored two other books entitled The African-Heritage Cookbook and God's Stress Management Plan. She and her husband, Gregory R. Love, currently reside in the Houston area of Texas.
WestBow Press is a strategic self-publishing alliance of Thomas Nelson, the world's premier Christian publisher, and Author Solutions, Inc. (ASI)—the world leader in the fastest-growing segment of publishing. Through this partnership, authors benefit from the rich publishing heritage of Thomas Nelson and the speed-to-market advantages of the ASI self-publishing model. Titles published through WestBow Press will be evaluated for sales potential and considered for publication under the Thomas Nelson imprint. For more information, or to start publishing today, visit westbowpress.com or call 866-928-1240.
###