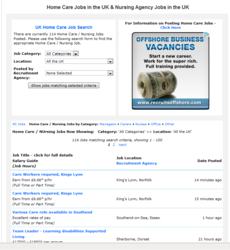 (PRWEB UK) 15 July 2011
Easily located via our home page, Agencies For Sale and Home Care Jobs are two features that care providers can easily update using their monthly Marketing Reports, allowing for regular posts of emerging care sector opportunities. The aim of homecare.co.uk has always been to assist care professionals with a greater transparency and flow of information, in support of which these new features take another significant step forwards.
Agencies For Sale
Even with frontline cuts hitting many communities, home care is an expanding sector that an ageing demographic will ensure requires a growing workforce. Our website's Agencies For Sale page is ideal for providers and investors looking to keep up-to-date with potential new business ventures, as well as marketing their own agencies should they be looking for buyers. Business brokers will find the page easily-manageable in relation to updating with agencies now on the market and which have secured a buyer, with the tough economic challenges the UK faces having failed to prevent a number of significant takeovers and expansions in the home care market this year, such as with the widening Home Instead Senior Care portfolio.
Home Care Jobs
Home Care Jobs lists positions from all parts of the care workforce, including management, nursing and office roles, with searches easily refined to list jobs from specific regions or counties. An excellent tool for home care agencies, now able to upload new positions quickly and easily on a daily or hourly basis if they so choose, the web feature is free to use and has already been embraced by, amongst others, Allied Healthcare Group and Point Nine Recruitment. We hope that care workers will find the tool a distinct advantage in responding quickly to new opportunities and developments.
Tomorrow's Guides remain committed to retaining free basic listings, such as are available throughout other sections of http://www.homecare.co.uk, and have proved so useful for other care sector businesses on our sister healthcare sites http://www.carehome.co.uk and http://www.daynurseries.co.uk However, for agencies that wish to increase their web traffic further, there will also be Sponsorship Banners and Featured Agencies available.
Web statistics continue to improve for http://www.homecare.co.uk, the youngest of our healthcare websites, which took less than twelve months to become the most visited UK home care site on the web since going live in April 2009. We aim to continue our contribution as a crucial source of information, through what promises to be an expanding and challenging time for the sector.
###