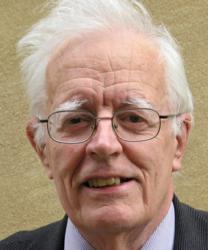 Alexandria, VA (PRWEB) July 14, 2011
Sir David Cox, a noted British statistician who was knighted in 1985 for his service to statistics, will give the keynote address at the Joint Statistical Meetings (JSM) at the Miami Beach Convention Centre on Monday, August first. His talk, which is the annual President's Invited Address, is titled "Statistical Analysis: Current Position and Future Prospects."
Cox's talk will focus on the importance of and interest in statistics, which stems in large part from the wide range of applications of statistical ideas across the natural and social sciences and beyond. His presentation will include illustrations from a number of fields of application and the broad principles involved, including the impact of computational developments.
Dr. Cox's outstanding contributions to the theory and applications of statistics have had a pervasive influence. The introduction of what today is called "Cox regression" in survival analysis was the impetus for a research area with many books and thousands of papers; it has transformed the way in which survival studies in medicine and technology are performed and evaluated. In 1985, he was knighted by Queen Elizabeth. In 1990, Cox was the first non-medical researcher to win the prestigious US Kettering Prize and Gold Medal for Cancer Research. In 1973 he was elected a Fellow of the Royal Society of London and in 1986 became a Foreign Associate of the US National Academy of Sciences. In 2010 he was elected a Fellow of the Royal Society of Canada and received that group's Copley Medal, believed to be the oldest medal for scientific research dating to the early 18th century.
In 1988, Dr. Cox went to Oxford as Warden of Nuffield College, where he is now active as Honorary Fellow. He has supervised, collaborated with, and encouraged many younger researchers now prominent in statistics. He has served as President of the Bernoulli Society, of the Royal Statistical Society, and of the International Statistical Institute. He also was the editor of the journal Biometrika for 25 years.
JSM is the world's largest gathering of statisticians, and has been held continuously since 1974. The theme for 2011 is "Statistics: An All Encompassing Discipline." The 2011 sessions feature statistical experts from the U.S. Census Bureau, various U.S. government agencies, and numerous U.S. and foreign universities, including several Florida institutions. Complete program and registration information for JSM 2011 are available at the JSM web site at http://www.amstat.org/meetings/jsm/2011/
Press is welcome to attend any of the sessions, and press registration is located at http://www.amstat.org/meetings/jsm/2011/index.cfm?fuseaction=pressregistration
About the Joint Statistical Meetings
JSM, which has been held annually since 1974, is conducted jointly with the American Statistical Association (ASA), the International Biometric Society (ENAR and WNAR), the Institute of Mathematical Statistics (IMS), and the Statistical Society of Canada (SSC). JSM activities include oral presentations, panel sessions, poster presentations, continuing education courses, exhibit hall (with state-of-the-art statistical products and opportunities), career placement service, society and section business meetings, committee meetings, social activities, and networking opportunities.
About the Statistical Society of Canada
The SSC is dedicated to the development and use of statistics and probability by working to ensure that decisions affecting Canadian society are based on appropriate data and valid statistical interpretation, promoting the highest possible standards for statistical education, methodology and practice in Canada, and providing a forum for the exchange of ideas between theoreticians and practitioners of statistics.
About the American Statistical Association
Headquartered in Alexandria, Virginia, the American Statistical Association is the world's largest community of statisticians and the second oldest continuously operating professional society in the United States. For 170 years, the ASA has supported excellence in the development, application, and dissemination of statistical science through meetings, publications, membership services, education, accreditation, and advocacy. Its members serve in industry, government, and academia in more than 90 countries, advancing research and promoting sound statistical practice to inform public policy and improve human welfare. For additional information about the American Statistical Association, please visit the ASA web site at http://www.amstat.org or call 703.684.1221.
For more information:
Rosanne Desmone
American Statistical Association
703.302.1861 (direct)
703.946.3820 (mobile)
Rosanne [at] amstat.org
###