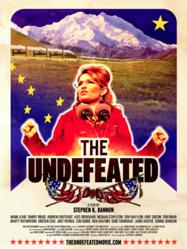 Our great state is presently experiencing tremendous political upheaval. This film is a must-see for all whether you support Sarah Palin or not, Bill Lichter
Milwaukee, WI (PRWEB) July 21, 2011
The Wisconsin Chapter of Organize4Palin (O4P) today announced the greater Milwaukee area premiere of "The Undefeated" on Friday, July 22nd at the AMC Theater in Wauwatosa. This limited engagement premiere will run through Thursday July 28. The recently released film about Governor Sarah Palin's rise from obscurity to national prominence opened to a successful debut in ten selected markets nationwide last weekend. The movie was received by enthusiastic audiences and, in many cities, sold-out crowds.
The film has captured the interest of conservatives nationwide through a successful grass roots marketing campaign, and many venues during the debut weekend reportedly had to move showings of the film to larger theaters to accommodate the crowds hoping to learn more about the former Alaska governor, Tea Party favorite, and Republican rainmaker.
Governor Sarah Palin made headlines last spring at a Tea Party rally in Madison, Wisc., when she delivered a strong message to President Obama regarding the 2012 elections: "Mr. President, game on!," she stated.
Locally, conservative activist and Racine county GOP board member, Lou D'Abbraccio stated: "I'm looking forward to seeing this film. I think it's important to keep an open mind, that's why I'm looking forward to hearing the other side of the story."
Andy Badolato VP of Business Development and Marketing for Victory Film Group, and Associate Producer of "The Undefeated" stated, "This film has demonstrated a very wide appeal and extremely positive reactions from viewers. We are pleased to expand our limited engagement roll out to the greater Milwaukee area."
Ginny Marschman, a local delegate to the Republican National Convention in 2008 is also enthusiastically awaiting the movie, "I have the highest regard for Sarah Palin. As a Delegate to the RNC Convention in 2008, I was honored to be on the floor to vote for her as our Vice Presidential nominee. She communicates magnificently and was a hardworking and effective Governor of Alaska. I can't wait to see the movie."
"We are proud to receive and welcome this great film and its director Steve Bannon to our community. Our great state is presently experiencing tremendous political upheaval. It's great to have a film that helps educate and inspires our residents about the political process and how it really works. This film is a must-see for all whether you support Sarah Palin or not," said Bill Lichter WI O4P Coordinator.
The film will be showing at the AMC Mayfair Mall Theater, located at 2500 N Mayfair Rd Wauwatosa, WI 53226 at 10:20 a.m., 1:20 p.m., 4:25 p.m., 7:20 p.m., and 10:20 p.m. Tickets are available online at http://www.movietickets.com. More information about the movie is availabe at http://victoryfilmgroup.com/theundefeatedmovie/
About Organize4Palin (O4P)
Organize4Palin (O4P) is a grassroots network comprised of Americans who believe in restoring our country by supporting the leadership of Gov. Sarah Palin and the values she embraces. Our efforts in 2010 helped many of Gov. Palin's endorsed candidates win their pursued office. http://www.Organize4Palin.com
###