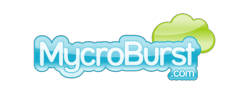 "ClientShare allows businesses to easily use MycroBurst as a third party solution."
- Joe Witte
Langhorne, PA (PRWEB) July 14, 2011
MycroBurst.com, the leading online marketplace for graphic and logo design, is thrilled to announce the release of its most recent, innovative feature called ClientShare.
The new ClientShare feature from Mycroburst allows customers to easily outsource custom graphic design services. It is perfect for marketing consultants, printers, web designers and any others who may outsource design work.
"Adding the free ClientShare feature to our design projects was necessary to help businesses that run projects for their own clients," said Executive Vice President of MycroBurst, Joe Witte, "ClientShare allows businesses to easily use MycroBurst as a third party solution."
The MycroBurst website allows anyone to become a project holder by hosting a design contest and naming their own price. The design community at MycroBurst enter these contests by submitting design drafts based on the creative brief provided by the project holder. After providing feedback, project holders will choose a winning design and receive the design files with full ownership rights.
While running a project, ClientShare, a private label feature, allows design projects to be listed under any company name or brand specified by the project holder.
"With ClientShare, MycroBurst is serving as a 'behind-the-scenes' team," said MycroBurst founder Zaheer Dodhia, "Project holders can leverage the power of our design community with over 30,000 designers for each of their clients."
MycroBurst design projects currently average 100 or more drafts per contest. The ClientShare feature from MycroBurst produces unique links for each design contest. All links can be customized by the project holder and the links make sharing design contests super easy. From the MycroBurst website, their ClientShare link can be shared via Facebook, Twitter, email and more.
ClientShare has been live since June 28 and MycroBurst has already seen great success with the new feature.
"MycroBurst has been great and our projects have been very successful so far," said Shay Hayes, VP of Technology at Sabre Publishing, Ltd. Co. "It has really worked well for us and we intend to keep using MycroBurst."
About MycroBurst.com:
Mycroburst.com, a Guru Corporation company, is the web's leading marketplace for graphic design. MycroBurst brings together our community of graphic designers with clients from around the globe. MycroBurst is a great solution for custom-designed logos, marketing collateral, stationery and anything else they can dream of.
# # #