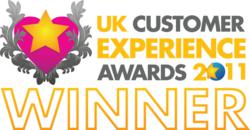 "It's been an excellent year for awards at SJD"
(PRWEB UK) 15 July 2011
With the recent closure of companies such as Focus and Habitat (The Guardian, 27 June 2011), it is no surprise that companies are trying to differentiate themselves and cling on to customers.
A recent report from Price Water House Coopers has revealed that UK chains have being closing stores this year at a rate of 20 a day.
However there is light at the end of the tunnel for some companies. A yearly global report from American Express on customer service has highlighted that 68% of UK consumers are more likely to spend more to receive excellent customer service.
An unlikely candidate that has benefited from excellent customer service is the accountancy firm, SJD Accountancy. Usually you wouldn't expect a firm of accountants to focus so many resources onto providing superb customer service and in fact no one would blame you for thinking they are just your 'regular set of grey suited accountants'.
Nevertheless SJD Accountancy, the UK's largest accountants for contractors with over 10,000 limited company clients, have seen the importance of face to face meetings and that customers would much rather speak to a 'real' person.
Evidence from the American Express report solidly supports this. 90% of consumers would rather speak to a 'real' person and 79% would rather talk face to face.
SJD Accountancy's commitment to customer service was recently rewarded in UK Customer Experience Award winning the 'Best Professional Team of the Year', beating off the likes of Shoosmiths, Citation and Pearl Linguistics.
The UK Customer Experience awards acknowledge companies who focus purely on putting their customers and the service they provide at the very heart of their company.
On winning the award, Charmaine Vallance – Poole, Customer Service Director at SJD Accountancy commented, "It's been an excellent year for awards at SJD and earlier this year we were awarded the UK Customer Satisfaction Award for 'Customer Commitment, SJD Accountancy has a long history of putting its customers first and winning awards for its service. Back in 2004 SJD won the Accountancy Age award for Excellence in Accounting, since then we have won several other such awards and commendations. The secret to SJD's success is simple and this is down to our interviewing process. We only hire people who are naturally passionate about providing great customer service. We find you either have customer services in your heart or you don't, we obviously try our very hardest to only employ people who have customer services at their very core".
As well as winning this award SJD has also won other Accountancy Age awards, Contractor voted awards from 'Contractor UK' as well as accolades from the Sunday Times Best Places to Work, the National Business Awards and National Customer Service Awards. In fact in their market, no other firm has won more awards for customer service and accounting excellence.
About SJD Accountancy
SJD Accountancy is the UK's largest specialist provider of fixed fee, limited company accountancy services to contractors, freelancers and Small Businesses. It is the only national specialist firm of accountants with offices in all major cities, and is the chosen accountancy firm for more than 10,000 clients.
SJD Accountancy has been acting for contractors and small businesses since 1992 and is the most recommended accountancy firm on the Internet. It has more qualified staff than any other specialist firm, with qualifications covering the major Tax and Accountancy bodies, including ATII, ATT, ACCA, CA, ACA, FCCA, ACMA.
SJD Accountancy offers a complete package including completion of accounts, payroll bureau, dividends, corporation tax computations, personal taxation and all company returns.
On top of all that, SJD Accountancy has also won every relevant industry award possible, including:

'Small Firm of the Year' - Winner Accountancy Age 2007 & 2004
'Best Accountant for Contractors' - Contractor UK 2010, 2009, 2008, 2007 & 2006
'Best use of Internet'- Finalist Accountancy Age Awards 2008
'Santander Small to Medium Business of the Year' - Finalist National Business Awards 2010
'Excellence in Customer Services' - Finalists National Customer Service Awards 2009
'Business of the Year' - Finalists National Chamber of Commerce Awards 2008
'Extraordinary Three Star Status' - Sunday Times Best Companies Accreditation 2009 - 2007
'Sunday Times Best Small Companies to Work For' - Award 2009 – 2007
'Award for Customer Commitment' at the Institute of Customer Service UK Customer Satisfaction Awards 2011
And most importantly, in a recent survey 98% of their clients rated SJD Accountancy as 'better than other accountants' - and they are working hard to convince the other 2%!
Further information
Contact: Rachel Rymer
Tel: 0500 152500
01442 275789
Email: rachel(at)sjdaccountancy(dot)com
Website: http://www.sjdaccountancy.com
###