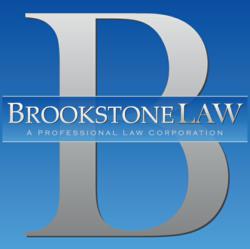 The decision clearly demonstrates the Brookstone Law EED knows how to deal with the banks and will go to court to get the results our clients need -- Aalok Sikand, litigation attorney, Brookstone Law PC.
Newport Beach, CA (PRWEB) July 13, 2011
Brookstone Law PC's Emergency Extension Department (EED) (http://www.brookstonelaw.com), a new resource to help homeowners facing foreclosure keep their homes, earned its first major victory this week on behalf of two local seniors with a Court decision cancelling the sale of their home.
According to court documents, Bob and Angela Sacchi, a married couple in their 80s living on a fixed pension income and savings in West Hollywood, CA, were facing immediate foreclosure sale without opportunity for a loan modification in January. With nowhere to go if their home was sold, there seemed to be no way for the couple to stop foreclosure until they contacted the EED specialists at Brookstone Law. Created by Brookstone Law PC to help consumers deal directly with an institutional bureaucracy that is biased against them, the EED is a unique service not offered by any other firm that gives homeowners facing foreclosure a fighting chance to keep their homes.
The case is Sacchi, vs. Residential Credit Solutions, Inc., Case No. BC453524 in Los Angeles Superior Court.
According to court documents, Brookstone Law's legal team researched the Sacchi's loan and discovered the sale and eventual eviction was based on a predatory home loan and the bank's refusal to allow the couple to modify their mortgage despite numerous attempts to fix their problems over several years. EED's team of legal experts and specialists fought for the couple in court by filing a lawsuit that resulted in a postponement. Following the postponement, Brookstone Law continued to represent the couple and took additional actions that eventually resulted in cancellation of the sale.
"Brookstone Law's EED team helped us save our home and gave us the security we need. What they have done for us is wonderful," said Mr. Sacchi, a member of the Screen Actors Guild and American Federation of Radio and Television Artists who starred in the film "The Man Who Stole Bogart's Face" and has appeared in numerous popular television series including "Kojak" and "Fantasy Island." "They cared about our situation and fought the bank for us in court. We couldn't have done that without the EED at Brookstone Law."
At a time when millions of Americans are losing their homes as part of the foreclosure crisis, homeowners face a daunting challenge when dealing with banks. To deal with those challenges, many homeowners have turned to the EED help them keep their homes. Brookstone Law PC's EED attorneys and specialists are experienced in working directly with banks and extensively trained to help homeowners achieve postponements. Homeowners facing foreclosure like the Sacchis are using the EED to help keep their homes and avoid declaring bankruptcy and in other cases to help them keep their homes after having filed for bankruptcy and not being able to refile for 7 years.
"Helping the Sacchis keep their home is an exciting achievement for our team and it shows we don't stop working until we achieve the results our clients need," said Nisha S., a seasoned EED specialist.
Brookstone Law's EED legal team researches all available options to assist homeowners extend their sale date while they are in the process of litigation, bankruptcy or short sale. Fees are contingent upon success of the service, which means consumers pay only if the sale can be postponed or stopped. The process typically takes several hours per client and many cases require as much as a full day to get results since a majority of EED activity is spent by the Firm's lawyers and experts in foreclosure law and litigation dealing directly and negotiating with banks and lenders.
"The decision clearly demonstrates the Brookstone Law EED knows how to deal with the banks and will go to court to get the results our clients need," said Aalok Sikand, litigation attorney at Brookstone Law PC. "Our EED specialists worked very hard on behalf of the Sacchi's to achieve this victory and are to be highly commended for doing such great work."
ABOUT BROOKSTONE LAW, PC
Headquartered in Newport Beach, Calif., and with offices in Los Angeles, Calif., and Ft. Lauderdale, Fla., Brookstone Law, PC is a law firm comprised of attorneys with experience and success in business, corporate and personal finance, employment, entertainment and media, art and museum, intellectual property and real estate law. The firm has a network of more than 40 affiliate attorneys nationwide and employs highly trained specialists, paralegals, paraprofessionals and administrative staff dedicated to serving clients. For information, call (800) 946-8655 or visit Brookstone Law.com (http://www.brookstonelaw.com).
# # #