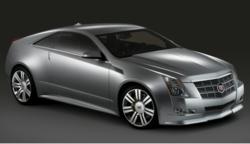 Joliet, IL (PRWEB) July 15, 2011
The sales professionals at Bill Jacobs Cadillac - the leading Cadillac dealership in Joliet, Illinois - were not surprised earlier this year when the Cadillac CTS coupe was honored. Dealing with the top of the line luxury cars on a daily basis, they have come to expect greatness from the brand, and they are rarely disappointed.
The Rocky Mountain Automotive Press is a Denver-based association of automotive journalists, communications specialists and auto-industry professionals. The New Vehicle of the Year Award recognizes the most outstanding significantly re-engineered 2011 model. The changes that have been happening at Cadillac are quite impressive according to professional reviewers as well as everyday people who have bought a Cadillac.
"It takes a very exceptional vehicle indeed to master both the plains and mountains of the Rocky Mountain West and I'm thrilled that the journalists of the Rocky Mountain Automotive Press have voted the new and innovative Cadillac CTS Coupe our 2011 New Vehicle of the Year," said Roman Mica, association president.
Other honors for the CTS family include:
● AutoBild Allrad 2011 Car of the Year: Import Coupe/Convertible/Sports Car Segment (CTS Coupe AWD)
● MotorWeek 2011 Drivers' Choice Award: Best Coupe (CTS Coupe)
● Motor Authority Best Performance/Luxury Car to Buy for 2011 (CTS-V Coupe and Wagon).
● Internet Car of the Year (Pros Pick) for 2010 (CTS-V Coupe)
● Esquire Car of the Year Awards for 2010: Best Domestic Car (CTS-V Coupe)
● Edmunds Inside Line Most Wanted Awards for 2011 (CTS-V Wagon)
● Car and Driver 10 Best List for 2011 (CTS-V Sedan, Coupe and Wagon)
● AUTOMOBILE Magazine 2011 All-Star (CTS-V Wagon)
● MSN Autos Editors Choice Award for 2010 (CTS-V Wagon)
● AutoWeek Best of the Best Car for 2011 (CTS-V Coupe)
● Popular Mechanics Auto Excellence Award: Top 10 Cars of 2011 (CTS Coupe)
The CTS coupe is just one of many great new 2011 models that have customers everywhere excited. When it comes to luxury and performance, Cadillac is tough to beat.
Local residents who are interested in buying a Cadillac CTS coupe in Joliet, Illinois are encouraged to stop by Bill Jacobs Cadillac, the premiere Cadillac dealership in the area. Their sales team is professional and friendly and they can answer questions consumers might have as well as schedule a test drive.
###