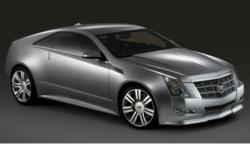 Joliet, IL (PRWEB) July 23, 2011
The sales professionals at Bill Jacobs Cadillac - the leading Cadillac dealer in Joliet, Illinois - were not surprised that the Cadillac CTS family were named to the Car and Driver 10Best list. The award recognizes the Cadillac CTS-V Sport Sedan, the CTS-V Coupe, and the CTS-V Wagon. The January 2011 issue of Car and Driver explained their focus on the CTS-V line:
"In forsaking the mainstream CTSs, we are saying yes to psychedelic power, yes to organ-shifting g-forces, yes to the great, mind-expanding duality of Cadillacs that make the 0-to-60 sprint about as fast as a Ferrari 599…. These are hard-core performance cars, but they are also Cadillacs, with all of the seamlessness, refinement, and content that implies."
The Cadillac CTS-V line feature a supercharged 6.2L V-8 that puts out 556 horsepower and 551 lb.-ft of torque. Power is delivered to the rear wheels with either a standard six-speed manual or six-speed automatic transmission. Other high-performance features include standard Magnetic Ride Control, Brembo brakes, and 19-inch forged-aluminum wheels with Michelin Pilot Sport PS2 tires. Overall, the CTS-V family from Cadillac is quite impressive both inside and out. When it comes to power, comfort and luxury, the CTS-V is hard to beat.
"We sincerely appreciate Car and Driver's continued recognition of the CTS as one of their favorite cars," said Don Butler, vice president, Cadillac marketing. "The CTS is an example of the performance, design, and luxury that have made Cadillac a leader among luxury brands."
The Michigan-built Chevrolet Volt was also named to the Car and Driver 10Best list for 2011. In total, GM was the only American automaker to earn two spots on the list. They tied with Honda for the most vehicles from any manufacturer in the world, which is an honor on such a prestigious list.
Local residents who want to buy a Cadillac CTS in Joliet, Illinois are urged to contact Bill Jacobs Cadillac. As the premiere Cadillac dealer in Joliet and surrounding areas, their staff, service and selection are tough to beat. Consumers will also be able to see a great selection of other new and used Cadillac vehicles in Joliet at Bill Jacobs Cadillac.
###