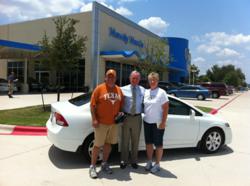 Austin, TX (PRWEB) July 15, 2011
For the past two months United Heritage Credit Union has been selling raffle tickets to raise money for the United Heritage Charity Foundation, the giving arm of United Heritage Credit Union. The winner of the raffle, Lonny Poe of Dripping Springs, received a 2011 Honda Civic LX, from Howdy Honda in Austin, Texas.
The raffle was a complete success raising approximately $40,000 which will be used to support selected charities in the local area. These charities have focused on education and medical research initiatives as well as those supporting women and children at risk or having special needs.
"United Heritage Charity Foundation supports those organizations and charities in our community where we can really make a difference." said Jess Lofgreen, United Heritage Charity Foundation Vice Chairman and Director, EXCELL & Customer Relations at Howdy Honda. The Charity Foundation was founded in 2003 and to date has given in excess of $900,000 to deserving charities. Among those supported by the Charity Foundation are Ronald McDonald House, Austin Smiles, Juvenile Diabetes Research Foundation, Ripples of Hope and others.
The whole team at Howdy Honda, the leading Honda dealer in Austin, Texas is extremely proud to have this long term relationship with the United Heritage Charity Foundation. Howdy Honda feels very involved within the Austin and Central Texas community and appreciates the goals set forth by United Heritage Charity Foundation. To see the Honda Civic LX and other fine Honda automobiles stop by and "Test Drive" Howdy Honda, Austin Friendly, Texas Proud.
###