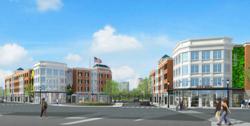 Newark, NJ (PRWEB) July 13, 2011
Newark Mayor Cory Booker, New Jersey Housing and Mortgage Finance Agency Executive Director Anthony L. Marchetta, President/CEO of Michaels Development Company Robert Greer, and officials from the Newark Housing Authority will gather with other city, state, and community leaders for the ceremonial groundbreaking of Baxter Park South, the first phase of a new mixed-income neighborhood that will bring affordable housing, new retail opportunities and green space to the former site of Baxter Terrace, a blighted housing complex. When completed in the winter of 2012, this new neighborhood will connect the university communities to the Downtown University Cultural District.
WHEN:
Thursday, July 14, 2011, at 11:00 a.m.
WHERE:
Site of Baxter Park South
57 Sussex Avenue, Newark, NJ
DETAILS:
Innovative Mixed-Use, Mixed-Income Development Will be Among the City's "Greenest"
Baxter Park South is the first phase of a multi-phased development bringing new affordable homes as well as significant retail opportunities and green space to the site of a blighted housing complex in Newark's Central Ward. This innovative development will feature a host of green building components, including solar panels that will generate electricity for the buildings; energy efficient construction and appliances; the use of recycled materials and water saving fixtures. Baxter Park South is funded with a mix of private and public financing, including stimulus funding won from a competitive green grant competition sponsored by the U.S. Department of Housing and Urban Development. Baxter Park South features 90 rental apartments affordable to families with a variety of incomes, and is expected to generate hundreds of jobs within the local Newark area. The Newark Housing Authority in partnership with Michaels Development Company, the nation's number one affordable housing developer, anticipates construction completion by December 2012.
About the Newark Housing Authority: The Newark Housing Authority was founded in 1938. A nonprofit organization, it is the largest public housing authority in New Jersey and the eleventh largest in the country. NHA is charged with providing low-income residents in Newark with decent, safe and affordable housing. NHA manages approximately 10,000 housing units throughout Newark including townhouses, family developments and housing for the elderly and disabled.
About The Michaels Organization: Michaels Development Company is part of The Michaels Organization, a family of companies dedicated to excellence in affordable, mixed-income, student, and military housing. Michaels Development Company is the number-one ranked privately held affordable housing owner in the country and in 2010 was named the Multifamily Development Firm of the Year by the National Association of Home Builders.
# # #