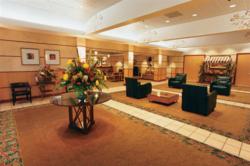 Last year we had a great turn out and raised a great deal of money. We hope to do so again.
Easton, PA. (PRWEB) July 15, 2011
The 2nd Annual Larry Holmes Celebrity Golf Tournament will be held August 6th and 7th 2011 at the Fernwood Hotel & Golf Resort on Route 209 in Bushkill, PA. The event will benefit the non profit organization responsible for placing a stature of Larry Homes in his home city of Easton, PA. Golfers will play on teams lead by celebrities such as Larry Homes, Gerry Cooney, Darryl Dawkins, Rick Barry and George Rogers.
On August 6th, there will be a cocktail and dinner and the golf tournament will be held on August 7th with a lunch to follow. Both the dinner reception and luncheon are open to the golfers and celebrities, giving golfers the opportunity to mingle with the celebrities. "Last year we had a great turn out," said Larry Holmes "We are expecting this year to be just as exciting. It affords a unique opportunity for golfers to meet celebrities and spend the day playing golf. It's a lot of fun and I'm really looking forward to it."
Fernwood Hotel and Resort is a four season Pocono Mountain property offering 18 hole par 71 golf on its 440-acre property. In addition to golf, it has hotel and villa accommodations, restaurants, live entertainment, seven pools, canoeing on the Delaware, hiking at Bushkill Falls, horseback riding and shopping. "We are still looking for foursomes," said Larry Holmes Jr., Executive Director of the tournament "last year we filled up the tournament and we are looking to do the same this year. Its going to be a great event at a great facility."
Tickets for the dinner reception can be purchased for $75, along with golfer tickets priced at $250 for a single person or $1,000 for a team of four. Tickets are available for purchase at http://lhstatue.ticketleap.com/celebritygolf.
###