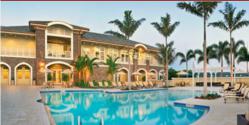 Delaire is showing a much better rebound in the market than country clubs in general.
Delray Beach, FL (PRWEB) July 14, 2011
Delaire Country Club, in Delray Beach, Fla., has been exceeding the expectations of its members for many years. And now, the prestigious country club is exceeding sales expectations as well—and outpacing sales at other country clubs in Delray Beach and Boca Raton area.
With 12 homes already sold to date in 2011, Delaire is on pace to more than double the 10 homes that sold here in 2010—and for good reason. Savvy homebuyers know the economy is ripe to purchase a single-family home at Delaire. That's why the lush, palm-lined streets at this desirable club are buzzing with activity as new homebuyers renovate, or completely rebuild, their homes.
"People have heard about the fabulous improvements we're adding here at Delaire," says Trent Squire, the Club's general manager. "They can't wait to see the new Clubhouse, meet friends in our new dining room or members grill, or work out in our all-new and expanded Fitness Center. But time is running out for people to capitalize on real estate deals here. Once the new Clubhouse opens in a few months, home prices are sure to go up."
At least one local real estate expert agrees with Squire.
"Overall, the sale of homes in country club communities is not as strong as for the market in general," says Richard Bass, the broker of three Keller Williams real estate offices in South Florida. "Delaire is showing a much better rebound in the market than country clubs in general."
"Buyers at Delaire are looking for both current value and future appreciation due to the fabulous renovations going on with the community," continued Bass. "When the overall market rebounds, Delaire will be well set."
Homebuyers at Delaire are excited by the new amenities and want to be part of the renaissance of this community—a renaissance occurring by virtue of the $21 million improvement project that is literally transforming the community and reinforcing its status as the most desirable country club in Palm Beach County.
"We compared Delaire to virtually a half-dozen clubs or gated communities in the Boca Raton area," says Stan Davis, an industrial auctioneer from Pittsburgh, Pa., who recently purchased a three-bedroom home at Delaire with his wife Marian. "They're building here toward the future. The Clubhouse they already had was fine, but the new Clubhouse is going to be phenomenal. We're very excited about it. Everybody here is very excited about it."
In addition to a fresh new architectural style and amenities, with just 326 homes Delaire offers members and guests an intimate feel not often found in South Florida's other country clubs. Its size allows the club to offer unique amenities such as walk-on golf, with no tee times required, and a full slate of social and recreational activities.
That's why members and guests agree that Delaire is the place to be in the Boca/Delray area.
The all-new Fitness and Tennis Center has already made its debut at Delaire and features a 16,000-square-foot Fitness Center with the latest in equipment and technology; a new Tennis Center with eight Har-Tru courts, an observation deck, a stadium court and Pro Shop; a spectacular resort-style pool; and a children's playground.
Everyone awaits the completion of the 43,000-square-foot Clubhouse slated to open this fall. Destined to become a focal point and gathering place for Delaire's members, the Clubhouse will bring to South Florida a bold new Mid-Atlantic Traditional style, with extensive stonework, copper accents, a central rotunda, lavish main dining room, cocktail lounge, members grill, golf pro shop, card rooms and an outdoor dining area overlooking the lush golf course. This Clubhouse—a stark contrast from the mundane Spanish-style, stucco buildings found so often in South Florida--will serve to distinguish Delaire from other country clubs.
Indeed, new homeowners have found that Delaire offers everything they could ever want in their new home. "Delaire combines the benefits of a well-run established country club with all-new amenities," says Squire. "It's a perfect combination."
About Delaire Country Club
Delaire Country Club is a private community of 326 single-family homes located on Military Trail along the Boca Raton-Delray Beach line. Delaire offers a first-class, casually elegant country club experience, featuring a 27-hole Joe Lee championship golf course with walk-on golf (no tee times), a full-service tennis facility with eight Har-Tru courts and world-class dining. The community recently opened a new state-of-the-art Fitness and Tennis Center, with the latest in equipment and technology as well as Certified Fitness Trainers. Delaire is also in the process of building a new Clubhouse with the utmost in amenities, from a lavish dining room to a lounge, card rooms and meeting facilities. To learn more about the unique lifestyle offered at Delaire Country Club, contact Liz Shaw, executive coordinator, at 561-499-9090 or visit http://www.Delaire.org.
###