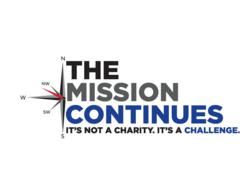 St. Louis, MO (PRWEB) July 14, 2011
Today Southwest Airlines announced a major investment in The Mission Continues, an award-winning national non-profit organization whose mission is to enable every returning veteran to serve again as a citizen leader.
Southwest Airlines' investment in The Mission Continues will facilitate staff and volunteer travel involved in the growth of the organization's Fellowship and Service Project Programs. The Fellowship Program provides post-9/11 wounded and disabled veterans the opportunity to regain purpose in their lives through community service to a local nonprofit organization. The Service Projects Program challenges veterans to continue their lifelong commitment to service by leading projects in their communities, and asks civilians to support veterans' efforts and show gratitude by serving alongside them.
Southwest Airlines has consistently demonstrated a significant commitment supporting veterans and active duty military. Southwest has been recognized by G.I. Jobs as one of the top 50 military employers, and every November, Southwest supports a number of veterans' service organizations during its "Military Heroes Month." Southwest has been a major supporter of The Mission Continues since its inception, and it served as the official airline of The Mission Continues Veterans Day Weekend in 2010.
"Thousands of our country's service men and women will return home from active duty in the coming year," said Linda Rutherford, Vice President Communication & Strategic Outreach. "At Southwest Airlines, we know it's important to support organizations like The Mission Continues and our communities in welcoming these heroes home as well as providing them with opportunities to serve."
As part of Southwest's investment, the airline will engage Southwest employees in the work of The Mission Continues through volunteerism at service projects in communities across the country.
"At The Mission Continues, we challenge veterans to continue their lifelong commitments to service by serving in our communities," said Eric Greitens, CEO of The Mission Continues. "We are proud to have Southwest Airlines join in our commitment to build a nation where every veteran can serve again as a citizen leader."
About The Mission Continues
The Mission Continues is a national nonprofit organization headquartered in St. Louis, Missouri. Founded in 2007 when Navy SEAL Eric Greitens returned from Iraq, the organization offers paid service fellowships to wounded and disabled veterans, awarding 159 fellowships in 29 states to date. In addition, The Mission Continues has mobilized over 17,000 civilian and veteran volunteers to complete over 300 service projects across the nation. For more information, please visit http://www.missioncontinues.org.
About Southwest Airlines
Southwest Airlines has a long history of supporting the men and women who fight for our Freedoms. We were recently named one of G.I. Jobs Top 100 Military Friendly Employers for 2010. Southwest Airlines also was recognized by the Employer Support of the Guard and Reserve (ESGR) for our commitment and support of our National Guard and Reserve Employees. In its 40thyear of service, Southwest Airlines continues to differentiate itself from other low-fare carriers – offering a reliable product and exemplary Customer Service. Southwest Airlines is the nation's largest carrier in terms of originating domestic passengers boarded, now serving 72 cities in 37 states. Southwest also is one of the most honored airlines in the world known for its commitment to the triple bottom line of Performance, People, and Planet. To read more about how Southwest Airlines is doing its part to be a good citizen, visit southwest.com/citizenship to read the Southwest Airlines One Report ™. Based in Dallas, Southwest currently operates more than 3,400 flights a day and has nearly 35,000 Employees systemwide.
###