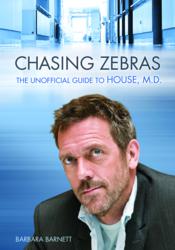 The definitive fan's guide " – April MacIntyre, Monsters and Critics
Chicago, IL (PRWEB) July 20, 2011
Barbara Barnett' s "Chasing Zebras: The Unofficial Guide to House, M.D." is best way to prepare for the new Season of the FOX hit (premiering October 3). A book sure to please House experts fans and novices alike, Chasing Zebras is available at online and traditional bookstores, so be sure to pick up a copy soon.
"Chasing Zebras" is every fan's companion to everything from Dr. House himself ("Mad, Bad and Dangerous to Know") to the music ("From J.S. Bach to Eddie van Halen") to the show's often subtle social commentary on topics like religion, euthanasia and mental illness. The 429-page book also includes a comprehensive episode guide to the series, and is filled with lots of trivia, episode highlights and much more. Comments from show's creative team and actors contribute to the book's rich detail, and are taken from Barnett's numerous interviews with executive producers, writers, actors and crew, such as Lisa Edelstein, Jesse Spencer, Jennifer Morrison and show runner Katie Jacobs.
Barnett is well-versed in all things "House." As co-executive editor of Blogcritics Magazine, an online pop culture magazine, she writes a feature called "Welcome to the End of the Thought Process: An Introspective Look at House, M.D.," which has become a widely-known discussion forum for the series. Barnett has also appeared on television and radio to talk about the show and her journey from blogger to published author.
"Chasing Zebras: The Unofficial Guide to House, M.D." is an e-book as well, and can be read on Kindle, iPad and other e-readers. The Spanish version of Chasing Zebras is published by Selector under the title "Guía No Oficial De House. Persiguiendo Cebras."
Media Praise for Chasing Zebras:
"A great read." – Nightwire Magazine
"The definitive fan's guide " – April MacIntyre, Monsters and Critics
"The ultimate fan tribute." – Pop Culture Guy
"Thoughtful, deep-tissue analysis of characters, themes and how-they-do-it explanations." – Barry Grey, Suite 101
About the book:
Chasing Zebras: The Unofficial Guide to House, M.D. (ECW Press, September 2010)
ISBN: 978-1550229554
Pages: 429
S.R.P.: $17.95
About the author:
Barbara Barnett is co-executive editor of Blogcritics, an Internet magazine of pop culture, politics and more owned by Technorati Media. Always a pop-culture geek, Barnett was raised on a steady diet of TV (and TV dinners), but she always found her way to TV's antiheroes and misunderstood champions, whether on TV, in the movies or in literature, including "House, M.D."
Barnett has had an eclectic career. With an undergraduate degree in biology and minors in chemistry and English, she pursued a Ph.D. in Public Policy Analysis after spending a few years working in the chemical and pharmaceutical industries. After many years as a public affairs consultant, Barbara made a sharp left turn in her career path, becoming a Jewish educator, but the writer in her never took a back seat, creating several noted and award-winning publications along the way. She is a polished and popular speaker on such diverse topics as liturgy, being a "good person," religious pluralism, politics, the environment and the nature of medicine and pop culture...and, of course House, M.D.
She is married and the mom of two great kids, an aged dog and a rabbit.
###