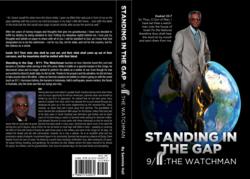 "This is the first religious work that I've read non-stop in quite some time. The thoughts and ideas contained within this work are truly eye-opening." - Allison Saleeby - Editor of Poinsettia Publications
Washington, DC (PRWEB) July 15, 2011
Poinsettia Publications is releasing a new book that examines the state of the world 10 years after the events of 9/11 and the World Trade Center Towers.
Located in Simpsonville, South Carolina, Poinsettia Publications is a small publishing house that focuses on releasing trade books of interest from all genres.
"Standing in the Gap - 9/11: The Watchman," by Sammie Hall, touches on how Sammie found the Lord and became a Christian while serving in the US's army. While in battle on a special mission in the Congo, he discovered Jesus and no longer wished to perform his duties as a soldier at war. Even though he was surrounded by blood & death daily, he did not die. Thanks to his prayers and his salvation, he did not have to take anyone else's life either. Sammie explains his beliefs on what is going on with the world (such as 9/11, Hurricane Katrina, the tsunami in Indonesia, Haiti's earthquake, severe winters, the floods in Australia, why the birds and fish are dying) and why.
Sammie also goes into detail as to President Obama's detrimental role in all of our lives. Many feel that Obama should be a one-term president. Sammie is enlightening us as to why it is an absolute necessity that Obama becomes a two term president.
Some believe that 9/11 was only an inside job from our government. Some believe that the event took place only because of the activities of an extreme religious group. Read more of Sammie's thoughts on why this devastating event was allowed to happen.
Having been born and raised in upstate South Carolina during a time when there was not much opportunity for African-Americans, Sammie never saw himself as limited by any form of oppression. He realized that he had been given many talents & insights from God, which has allowed him to push ahead through any obstacles.He grew up in the same neighborhood as the renowned Rev. Jesse Jackson, as Jesse lived just a block away from Sammie. The grandfather of Kevin Garnett (the professional NBA player for the Boston Celtics that lived part of his early years in South Carolina) was Sammie's god brother and he spent much of his time being a mentor to Sammie while working for Sammie's father. God allowed Sammie to cross paths with these individuals so that he would be aware that he could also be great.
Sammie has been great in many ways. Sammie has spent much of his adult life serving his Lord & Saviour Jesus Christ. He can be found on most days with Bible in hand – speaking or receiving the Word of God with family & friends.He spent three years in the military and went to the Congo for 45 days. He walked the streets and ate with mercenaries; however, he is now a veteran. He is an excellent artist and has produced a variety of artwork. A prominent figure in his community, Sammie has served as a deacon at Rocky Creek Baptist Church for over 20 years. He retired as a world-class mechanic at Michelin Corp. after working for 25 years. He enjoys fishing, traveling, and gardening. He cherishes his wife, Bobbie (whom he's been married to for 50 years), his children, and his grandchildren. Ever since his earliest days, he has loved family and storytelling.
"As I brace myself for what more the future holds, I open my Bible that rests just in front of me on the glass tabletop with the Lord on my mind and prayer in my heart. Little did I know…soon after the death of the birds that the fish would soon begin to perish shortly after across the world as well."
"Standing in the Gap-9/11: The Watchman" is now available for pre-orders. The official release date is August 9, 2011.
The book is available for purchase through Poinsettia Publications at: http://www.PoinsettiaPubs.com.
# Language: English
# ISBN-10:0-615-44097-5
# ISBN-13: 978-0-615-44097-2
# LCCN: 2011921160
# Publisher: Poinsettia Publications
# $17.99
# Paperback
For a review copy, please contact Tiffany Durant at info(at)PoinsettiaPubs(dot)com
Website: http://www.911thewatchman.com
Twitter: http://www.Twitter.com/SammieHall1
Facebook: http://www.facebook.com/people/Sammie-Hall/100002058963509
Charity: http://www.sumlarsplacecdc.org
###