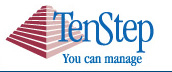 "We are excited to have this focus and expertise in the vast construction industry."
Atlanta, GA (PRWEB) July 15, 2011
TenStep announced the formation of TenStep Construction Services, a global practice group specializing in project services and support for the construction and real estate industries. TenStep Construction Services provides a wide range of construction and development services for all sizes of companies. This includes helping start-up companies be successful in the construction industry and scaling up to help established companies looking for consultants to augment and support their existing professional staffs.
Tom Mochal, President of TenStep, stated, "We are excited to have this focus and expertise in the vast construction industry. We can now provide much more value to customers with consulting services, classes and products focused specifically for this sector. We are also very happy to have two very experienced construction professionals guiding this practice group."
With over 50 years of leadership, development, training and construction experience the Principals of TenStep Construction Services can design a program to meet almost any real estate and construction needs. They lead a talented group of construction and development professionals that will provide solutions to the most challenging projects.
Mike Hale, Principal of TenStep Construction Services, added, "I am excited to co-manage the TenStep Construction Services Practice group. Bob and I have worked together in the past, and have developed a vast range of services for this industry. We have combined our construction expertise with the existing products and services of TenStep, to create a full portfolio of solutions targeted for the construction sector."
Bob Mathis, also a Principal of TenStep Construction Services pointed out the global nature of the Practice Group. "TenStep is a global company with varying levels of support for the construction industry. Mike and I also bring international construction services to this practice group. We look forward to strengthening the TenStep construction business in both the US and around the world. It promises to be a challenging and exciting business opportunity."
About TenStep
TenStep is headquartered in Atlanta, Georgia, (USA) with over 50 offices around the world. They help organizations implement their goals and strategies through the successful execution of projects. This includes successfully implementing solid project management practices, setting up and running Project Management Offices (PMOs) establishing portfolio management processes, and much more. Organizations can utilize the full range of consulting services to build an environment where projects can be successful. TenStep also has a vast curriculum of classes to help build individual skills and competencies.
###