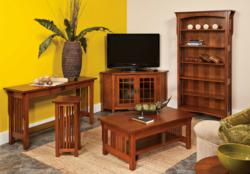 Shipshewana, Indiana (PRWEB) July 19, 2011
Centuries of old world tradition and a reputation for expertise make Amish craftsmen among the most well known furniture craftsmen in America. But with a rich legacy boasting countless styles and unique design accents, the world of Amish furniture can be overwhelming. With this in mind, Weaver Furniture Sales offers three tips to introduce you to the wonderful world of Amish furniture.

A (Very) Brief History – the Amish are a Christian group known for their simple lifestyle of religious devotion and hard work. They fled European persecution in the 18th century to settle in small communities along America's Eastern seaboard. Hard work and integrity in their native woodworking trades built their reputation for beautifully-crafted furniture.
The Big Two – simplicity and beauty have led to the two big styles of Amish furniture—Mission, and Shaker—which have enjoyed over a century of steady popularity. The Shaker style, noted for its elegance and gentle curves, has been in demand since the early 19th century, while Mission style furniture, named for the Spanish Missions of the American West, has been making waves since the early 20th century.
Amish in the Modern World – the Amish today, though a diverse group, still live in small, family-oriented communities and continue to practice the age-old secrets of their furniture craft. In Shipshewana, Indiana, the Amish have created a local economy of furniture, food, crafts, entertainment and lodging. There, one can truly experience the old world simplicity and integrity that has marked the "simple folk" and their hand-crafted furniture.
To view a wide selection of Amish-crafted furniture or to plan a trip to Shipshewana, Indiana to see the beauty of the Amish community first-hand, visit http://www.weaverfurnituresales.com for complete directions, the store history and hours, or just to simply browse.
About Weaver Furniture Sales:
Weaver Furniture Sales was established in 1989 in Shipshewana, Indiana, and is an Amish, family-owned furniture business that offers a full line of solid wood, Amish Furniture at affordable prices. As part of their client services, Weaver Furniture Sales provides furniture design consultation services, custom furniture options, furniture quotes, layaway options and various delivery alternatives for residences in the United States from their quiet country showroom in Shipshewana, Indiana.
LeRoy and Ida Weaver have owned and operated Weaver Furniture Sales for over twenty-one years, beginning with a 1,500 square foot showroom and expanding to over 15,000 square feet today. Previously, they owned and managed LeWana Dairy Farm where they milked cows and raised corn and hay.
###