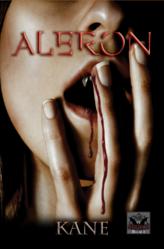 I can't wait to dive right into the rest of the Strigoi series. Aleron has plenty of excitement to sink your teeth into.
-Pacific Book Review
Atlanta, GA (PRWEB) July 14, 2011
Set in the 18th century, Aleron is seduced into the life of the undead by his lustful love of a female vampire as the reader feels Aleron's emotions carried forth in a first person narration, an incredible feat of imagination.
"I've been a fan of vampires and other fantastical beings for as long as I can remember. I have watched and read many different tales of the undead and out of that entertainment was born a desire in me to reveal the true history of the vampire, or should I say the Strigoi," quoted Kane during a recent interview.
"So I decided to journey into the heart of the legend that is Vlad, in Brasov, Romania. From there I journeyed to Bucharest, and many other surrounding cities. There I was able to marry my new found knowledge with the smell and feel of Transylvania. I submerged myself into an underworld of Gothic culture emerging with enlightenment, for I too felt reborn," Kane commented.
In a form of creative self-hypnosis, Kane transported himself empathically into the world of thought necessary to conceive the emotions and reasoning of his character Aleron. With his own personal beliefs of the super-natural, paranormal and spirit world, he admits now being certain there are things we cannot see or even imagine.
Kane said, "The little noises that wake you at night when you think you are alone; the feeling of paralysis when you desperately try to move your body after your mind has already awaken; the absolute feeling of experiencing something for a second time when you are sure you have never experienced it before are all signs of phenomena that we do not understand. And it is that ignorance that allows them to thrive."
Aleron is destined for immortality in the literature world just as the character is immortal in life, as Kane's creativity is beyond ordinary imagination. It is definitely a book you can sink your teeth into.
For more information about the author and to experience Aleron, please visit http://www.Aleron.CO , http://www.passionatewriterpublishing.com , or look for it on Amazon, Barnes and Noble, twitter (Aleron11) and Facebook (Aleron Kane).
###