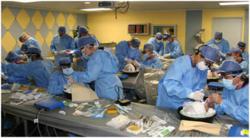 You will have all the tools you need to succeed in implantology and related fields.
San Diego, CA (PRWEB) July 14, 2011
A dental implant training and education institute in San Diego, California is offering new and specialized dental implant courses to dentists from all over the world. Open since 2001, the California Implant Institute is owned and operated by Dr. Louie Al-Faraje, who is one of the foremost authorities and pioneers in dental implant education and has provided hands-on dental implant training to over 1,000 dentists in his career.
The Institute offers year-long comprehensive fellowship training programs in implantology. The California Implant Institute also offers a variety of training solutions for those who are looking to advance their knowledge, expertise and skills in implantology. The Institute provides such great flexibility in the dental implant training courses (http://www.implanteducation.net ) in order to fit around dentists' schedule and within their working practice. The training, lectures and curriculums are custom tailored for each program to provide the best possible learning experience for all dentists who attend. The California Implant Institute prepares doctors and dentists for the challenges and obstacles that they will encounter in their practice, fully equipping them with all of the tools they will need to succeed within their field and specialty.
According to Dr. Al-Faraje and his staff, becoming an expert in the field of dental implants and implantology is becoming much more common place than it was ten years ago. "More dentists are making the decision to further their education beyond general dentistry," says Al-Faraje. "It is great to see that so many dentists want to learn and experience the dental implant education that we have to offer here at the California Implant Institute."
The California Implant Institute prepares dentists through the use of cadaver surgeries, lectures, live video surgeries and one-on-one consultations from Dr. Al-Faraje himself. During the first session of this one-year comprehensive hands-on dental implant training program, dentists will learn about anatomy, bone physiology, patient evaluation for implant treatment, risk factors, vertical & horizontal spaces of occlusion,bone density, step-by-step implant surgical placement protocols, impression techniques, restorative steps for implant crown and bridge and more. Additionally, hands-on pig jaw workshops are performed by the class and live surgery demonstrations by faculty. An Oceanside dentist (http://www.vistadentistry.com ) by the name of Dr. Mehran Raza completed the implantology courses provided by the California Implant Institute and now makes dental implant surgeries one of the focal points of his practice.
The California Implant Institute is now opening its doors to dentists and doctors from all across the world to come and receive training from one of the highest regarded authorities in dental implants and implantology. The Institute is offering some new dental implant courses including computer-guided implant dentistry, advanced bone-grafting and how to handle surgical complications with your patients. In this last course, Dr. Al-Faraje will be focusing on how to identify, avoid and handle forty specific complications and situations that can arise during dental implant surgeries. You will have all the tools you need to succeed in implantology and related fields.
"We're pleased to have the opportunity to expand our dental implant training and provide the necessary tools for dentists to excel and grow their skills," says Dr. Al-Faraje.
About The California Implant Institute
The California Implant Institute provides dental implant courses and training programs (http://implanteducation.net/htm/surgical_seminar.htm ) dedicated to providing hands-on implantology education to dentists worldwide. The California Implant Institute is located in the sunny San Diego, California.
# # #