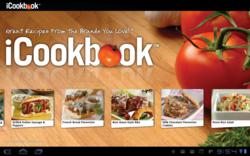 We chose the Amazon Appstore for the launch of our Android app because of their commitment to working with high-quality apps, and the opportunity to connect to the Amazon marketplace. - Jerry Croft, President, Cooking Division at PIL
Chicago, IL (PRWEB) July 14, 2011
Starting today, the iCookbook™ app—featuring more than 2,000 top recipes created and tested by many of the leading food brands in the country—will be available on the Amazon Appstore. iCookbook™ joins popular apps such as Angry Birds Rio and Plants vs. Zombies by launching its Android app exclusively in the Amazon Appstore. Today only, iCookbook will be the featured FREE App of the Day and will be available as a paid download for the list price of $4.99 starting tomorrow, July 15th. The worldwide release of the app into the Android Market will happen on August 7th, 2011.
"We chose the Amazon Appstore for the launch of our Android app because of their commitment to working with high-quality apps, and the opportunity to connect to the Amazon marketplace," said Jerry Croft, President of the Cooking Division and Digital Media at PIL. "iCookbook™ has had an amazing reception on the iPad, and we are excited to be able to put it into the hands, and kitchens, of Android users."
Navigating through the 2,000-plus recipes is easy with built-in search and sorting filters. Customers can find the perfect recipe by ingredient, occasion, brand, theme, cuisine, or the type of dish you're trying to make. And if you're still at a loss for ideas, iCookbook™'s "Stir" feature will randomly pick a recipe within filter parameters you set.
Beyond the abundance of tested recipes and beautiful photos that complement each recipe, iCookbook™'s design makes it ideal for in-the-kitchen use by home chefs. Each recipe features a "Prepare" function that breaks up the steps into manageable sections and displays them at a size readable from several feet, allowing you to set the tablet away from spills and splashes. Built-in tools—including a kitchen timer, quick access to size and volume conversions, and a list of ingredient substitutions—make iCookbook™ the only app you need when cooking up a meal at home.
ABOUT PUBLICATIONS INTERNATIONAL, LTD. (PIL)
Founded in 1967, Publications International employs more than 400 people and publishes more than 600 titles per year. PIL distributes nationwide and abroad through bookstores, major retailers, club stores, mass merchandisers, magazine newsstands, grocery stores, mail-order catalogs, and direct sales.
PIL headquarters are in Lincolnwood, Illinois with offices in New York; Bentonville, Arkansas; Mexico City; London; Sydney; Madrid; Hamburg; and Shenzhen. PIL publishes with five major divisions (Cooking, Children's, Consumer Guide, Stationery, and General Interest), with all publications and products created, produced, and published by PIL. All divisions operate under PIL with Mr. Louis Weber as CEO.
###