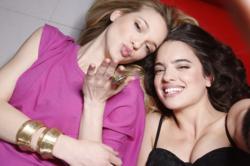 Los Angeles, CA (PRWEB) July 14, 2011
YMI, a leading junior lifestyle brand, kicked off Fall 2011 with a multi-faceted campaign that is a testament to its position as a pioneer of innovative and target marketing initiatives. The campaign titled "One Night at YMI; Two Girls, One Adventure" is set in the U.S. fashion capital, New York City, at the YMI showroom.
Through multiple print ads, teaser trailers and a short film, the campaign depicts the story of two rebellious girls breaking into the YMI showroom to rummage through the closets of their favorite brand. The campaign focuses on YMI's Fall/Winter 2011 denim and outerwear lines as well as the newly added product categories of tops, dresses, intimate apparel, footwear and handbags.
The campaign launch is a two-fold plan. The first phase launched on June 30, 2011 with the release of two trailers previewing footage from the short film and an option for viewers to "RSVP" to be one of the first to see the short film in its entirety. The objective of this phase was to obtain more fans and YMI newsletter subscribers as well as build anticipation for the complete short film release.
Phase two of the campaign will launch in July with print ads in Seventeen and Teen Vogue August issues and the release of the short film. The campaign is also a platform to launch a sweepstakes in partnership with Teen Vogue running from July 13th - August 17th, 2011. The grand prize winner will have an option to choose one of two impressive NYC trip packages; 1) Attend the Teen Vogue "Declare Your Denim" events during Fashion Week and visit the YMI showroom 2) Visit the Teen Vogue offices to meet editors, go to the YMI showroom, receive a 1-year subscription to Teen Vogue and a head-to-toe YMI wardrobe.
In support of the Fall 2011 campaign and sweepstakes, YMI created a fully integrated promotional plan utilizing multiple social media outlets including Facebook, Twitter, the YMI Obsessed Blog, print advertisements, dedicated email blasts to YMI's newsletter subscribers plus inclusion in the Teen Vogue e-newsletter and email blasts reaching approximately 200,000 subscribers. This campaign will bring tremendous additional visibility to YMI as well create additional brand buzz and generate new YMI customers.
ABOUT YMI
YMI is one of the leading nationally advertised junior/young contemporary brands. The corporate office and distribution facility are located in the heart of the downtown Los Angeles fashion district. YMI is distributed at better department and specialty stores nationwide. With its roots in denim YMI is rapidly expanding its product offerings across multiple product categories. For more information, please visit ymijeans.com.
###