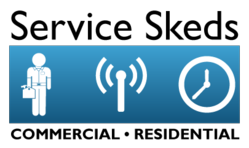 Service Skeds takes all the duties of a dispatcher and simplifies them into one web-based program.
Fort Worth, TX (PRWEB) July 18, 2011
Starting in July, Service Skeds cloud based, software-as-a-service offering announces the integration of QuickBooks Online and Sage Simply Accounting into the market leading dispatch management software. Easily export dispatched and completed appointments and service calls into Intuit QuickBooks Online or Sage Simply Accounting. "The ability to export completed service calls to your accounting system is a feature many customers have requested, and we have improved our service accordingly," Paul Vishnesky, Vice President of Sales for Service Skeds, said. With 25 years of experience in the industry under his belt, Vishnesky is confident that he's offering clients the whole package. "We've created a more complete product that now makes accounting easier by tracking time, labor, and materials in real-time and pushing that data to their financial accounting system."
Service Skeds already allows customer to take advantage of the latest smartphone technology to improve communication between service technicians and dispatch. Clients have access to all the Service Skeds features through one easy smartphone app. Available on both iPhone and Android smartphones, the app provides mobile customer service history and instant communication between dispatch and the technicians. The apps can also record each employee's hours, GPS location and convert voice-to-text messages for technicians to instantly update the records for each job. Adding in the ability to easily export this data to Intuit QuickBooks Online and Sage Simply Accounting will allow Service Skeds customers to reduce data entry and lost time.
Service Skeds starts by giving each client state-of-the-art mapping and GPS tracking services. The Software-As-A-Service offering takes all the duties of a dispatcher and simplifies them into one program. It documents the exact location of technicians when they are on a job and keeps track of when they start, pause and complete each service call. Dispatch can also view the location of upcoming jobs so they know where to send their technicians next.
Back in the office, Service Skeds makes organizing each job easier than ever. It lets you document multiple pieces of equipment for each customer, keep track of each service call and get instant notes from technicians in the field. Service Skeds also features a convenient search system, where clients can look up past jobs effortlessly.
"If Service Skeds can make the job easier for the dispatcher, it might give him or her time to make another sale or land a new customer," said Stephen Chambers, Service Skeds president and chief technology officer. "It's all about taking advantage of the technology."
Employees at Service Skeds understand that integrating the latest technology can seem difficult, but they guarantee that understanding the features will be a straightforward and simple process. To help get the ball rolling, Service Skeds is currently offering free in-house training for new clients.
"We're offering a service business solution for managing employees and managing an entire company in the palm of your hand," Vishnesky said. "We want our clients to invest in our technology so we can help them grow. Adding the ability to export to common accounting systems is just another example of this investment."
ABOUT SERVICE SKEDS
Founded in 2009, Service Skeds is a cloud based, smartphone enabled dispatch management tool that helps the service industry become more efficient. Using the latest smartphone technology,Service Skeds offers numerous ways for service driven businesses to innovate and compete effectively in the technology-driven world.
For more information contact:
Paul Vishnesky
Tel: (657) 444-SKED
Tel: (657) 444-7533
paul(at)skeds(dot)com
# # #