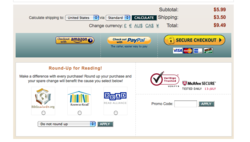 By joining together, we'll make a macro-difference through micro-donations.
Asheville, NC (PRWEB) July 15, 2011
Independent book marketplace Biblio.com announced today the launch of its charity donor tool, Round Up For Reading. The new feature to its online checkout, Round Up For Reading provides customers with a choice of literacy charities to which they can optionally donate by rounding up their purchase.
The Round Up For Reading program is powered through a partnership between Biblio and Beanstalk Giving.
"We're honored to help Biblio with their cause-related initiatives by managing and facilitating the micro-donations raised within their online store," explains Ross Williams, President of Beanstalk Giving. "Beanstalk Giving was created with the idea of linking e-tailers with a passion for giving back, non-profits with a desire to reach a new online audience and every-day customers. By joining together, we'll make a macro-difference through micro-donations."
Currently the Round Up For Reading tool offers customers the chance to donate to one of three charities: Biblioworks, READ Alliance or Room To Read. BiblioWorks' primary program is building and funding libraries in impoverished communities in South America. Room To Read provides literacy access to primary- and secondary-school children through a variety of programs focused in Asia and Africa. READ Alliance serves at-risk kindergarten and first grade children by recruiting and training teens to provide structured one-to-one tutoring in reading.
"READ Alliance is thrilled to partner with Biblio, Inc.," says Alliance president Yvonne Petrasovits. "The Round Up for Reading checkout tool is such an ingenious way for customers to help give the gift of literacy."
Biblio is also one of the first companies in their industry to build a long-term charity donation tool into their checkout. According to Allen Singleton, Chief Operating Officer, literacy and education have always been core values for Biblio.
"From the start we have devoted a portion of our revenue to supporting non-profits that work to promote literacy and education," says Singleton. "Partnering with Beanstalk Giving to launch this program allows us to give our customers an easy way to join us in supporting these causes. It's also a great way to better express who we are as a company."
About Biblio, Inc:
Biblio's flagship product, Biblio.com, is one of the largest used book marketplaces on the Internet, offering 60 million high quality used books from independent book stores around the world. It also powers similar niche-market sites such as Biblio.co.uk, IOBABooks.com (Independent Online Booksellers' Association) and abaa.org (Antiquarian Booksellers' Association of America).
About Beanstalk Giving:
Beanstalk Giving is a low-profit company offering online retailers tools to promote social responsibility. Through small donations and change round-up programs, online retailers can raise funds on behalf of select charities at checkout points. Beanstalk Giving strives to provide charities with a no-cost way to raise funds online, while promoting retailers' social responsibility and buyer awareness.
###