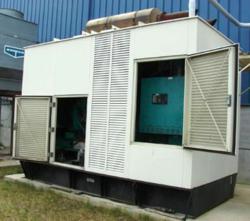 You never think it can happen to you – until it does. But by the time the power is out, it's too late to start scrambling for a solution.
Chicago, IL (PRWEB) July 18, 2011
The night the lights went out in Chicago last month, one company managed to operate business as usual despite a nearly three-day power outage. Aaron Equipment Company, a new and used process equipment dealer, leveraged the same standby backup generators it encourages its customers to own. As a result, the firm was able to keep its doors open and its customers' orders shipping on time.
According to the "Chicago Sun-Times," a storm that ripped through the Chicago area on the night of June 21, 2011 left over 267,000 without power. The next day, 189,000 Chicagoans were still stumbling around in the dark. ComEd, the region's electric supplier, anticipated that its powerless customers "could have electricity restored by late Thursday" – a full 48 hours later. Even that far out, however, it couldn't guarantee that full restoration would be the case.
Such an extended timeframe left Chicago-area firms at a standstill for over two full business days. Despite its locale just outside of O'Hare Airport, however, Aaron Equipment Company never skipped a beat. By relying on its backup generators, the company was able to continue operating business as usual.
The blackout turned the tables on Aaron Equipment Company, putting the firm in a position it's usually helping its new, reconditioned and used process equipment clients avoid. As a result, the Aaron team was able to practice what it preaches: the importance of having standby / emergency backup generators on hand.
Generator Specialist Patrick Paden explains, "You never think it can happen to you – until it does. But by the time the power is out, it's too late to start scrambling for a solution. Being prepared for an electrical outage is the best way to ensure it doesn't cripple your means of life. We just witnessed that truism firsthand. What could have amounted to three days down the drain was quickly mitigated with backup power generation."
To save business owners the loss of income that results from a lack of power, Aaron Equipment Company offers a wide range of used generators, new generators and automatic transfer switches. Whatever their backup generation requirements or their price point, Aaron Equipment has the inventory to match.
To see all the backup generators and transfer switches Aaron Equipment Company has to offer, visit http://www.aaronequipment.com/UsedEquipment/Generators.html. For more information on the best generator to meet a particular business need, contact Patrick Paden at (630) 238-7539.
###