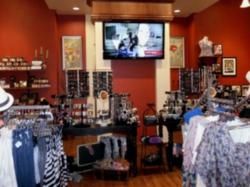 Fun, Fashion, Friends & Charity Passionate!
Missoula, MT (PRWEB) July 19, 2011
Apricot Lane (AL) Boutique at Southgate Mall in Missoula, Montana opened to great excitement in the Spring of 2011. The Brown Family's newest store, Apricot Lane Boutique at Gallatin Valley Mall in Bozeman, Montana, is creating a buzz of anticipation for its September, 2011 opening. With a unique, charity focused business model, the vision behind the stores is inspiring.
Apricot Lane Boutique Bozeman and Missoula are owned by a local family who is committed to fun, fashion, friends... and is always charity passionate. The Brown family commits their businesses to launching local artists, national brands as well as launching international brands. Favorite brands across the nation have been captured by Miss Ellie's vision to bring big city fashion to the smaller markets. The stores are devoted to bringing in apparel and accessories for three generations of women.
At Apricot Lane Boutique in Missoula and Bozeman, Montana, there is a strongly applauded movement to redefine the word diva.
In these AL stores, a diva means to be self-empowered, loving, savvy, dedicated, charitable, and very smart.
The diva status of all women is honored and reflected by the level of customer service and brands brought onto the sales floor. At Apricot Lane Boutique in Missoula and in Bozeman, Montana, all women are considered divas and treated with genuinely joyful customer service. When a customer walks into either store, they will see and feel a new kind of shopping experience: fashion with a heart.
The Browns have developed a multi-layered business model in which the stores are determined to keep the divas of Greater Missoula and Bozeman in top quality fashion at affordable prices. The stores also endeavor to contract with local vendors and give back in charitable support and contribution in awe-inspiring ways.
The Browns continue to drive their businesses with the philosophy that society's current reality show infatuation does not fully reflect the value system and lifestyle of the majority of women across the country. In a measure of countering current idealized behaviors of certain celebrities and media favorites, Apricot Lane Missoula and Bozeman supports women who stand firm in a higher standard of behavior and strength in integrity, hard work, and family. And for women who are in need of support in life-changing ways, this business is dedicated to utilizing a large portion of the business resources towards charity and community involvement.
The Brown family stores are a visual showcase with the mission statement that includes:

Fulfilling a need in the community: leading edge fashion that keeps retail revenue in the community while offering exceptional customer service.
Creating Jobs: empowering employees in all areas of business including marketing, merchandising, buying, and operations
Artist Support: launching local lines, national brands, as well as international brands in an 'off-market'
Contract Local Vendors: construction, printing, marketing, and media
Charity Focused: Using the stores as a vehicle for supporting charities through giving and good works. This support can range from a donation, marketing, or full sponsorship of fundraisers.
This is a business that is motivated to support a community. This is a gorgeous, custom designed store with the latest fashion trends. And this is a vehicle of fun, fashion, friends . . . and always charity passionate. What more could a diva ever want?
For more details:
Website: http://www.apricotlanemissoula.com
facebook
Website: http://www.apricotlanebozeman.com
facebook
###