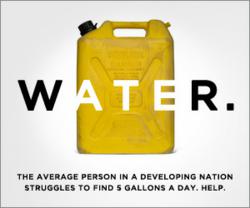 eCampus.com has made a commitment to fund an additional three water projects over the course of the coming year
Lexington, KY (PRWEB) July 19, 2011
eCampus.com, a leading online textbook retailer, has been fundraising towards several clean water projects in Northern Ethiopia through the non-profit organization charity: water. They are pleased to announce that they have generated the funds to provide an entire village with a clean, safe water supply. The community of Maikremto, population of over 300 people, will have a water source and several local villagers trained to manage it, when the project is complete in March 2012.
According to charity: water, almost one billion people on our planet do not have access to clean, safe drinking water causing 80% of diseases worldwide. eCampus.com is proud to help them make a difference. Corporate social responsibility is becoming increasingly important as technology closes the gap between our world and that of the less fortunate. Meeting people's needs through organizations like charity: water shows the compassion the company has for people in underdeveloped nations.
eCampus.com considered funding the clean water initiative in 2010 and has implemented several marketing campaigns aimed at generating awareness of the fundraiser. The "eCampus Entourage", the company's student brand ambassador program, has been a large source of financing for the website's contributions over the last year and they will continue to pull from the program to aid the organization. Furthermore, eCampus.com has made a commitment to fund an additional three water projects over the course of the coming year, with the potential total impact of providing access to clean, safe drinking water for more than 1,000 people in need.
eCampus.com would like to thank charity: water and everyone else involved, especially their customers, for making this accomplishment possible. "Our overall objective has always been to provide our customers with a strong value," said Matthew Montgomery, CEO of ecampus.com. "The ability to enhance that value by funding this initiative is something that we are proud to be a part of."
About eCampus.com
Since its founding in July of 1999, eCampus.com has grown into a major online retailer providing cheap textbooks for college and high school students. eCampus.com's stated mission is to provide the easiest, fastest, and cheapest way for college and university students to rent textbooks, buy textbooks and sell textbooks. eCampus.com believes the Internet buying experience should be fun and that shopping for textbooks should be as fast and convenient as possible. The company makes a personal commitment to every customer that eCampus.com will be the best source for everything they need.
About charity: water
charity: water is a non-profit organization bringing clean, safe drinking water to people in developing nations. We use 100% of public donations to directly fund sustainable water solutions in areas of greatest need. Right now, almost a billion people on the planet don't have access clean and safe drinking water. That's one in eight of us. Unsafe water and lack of basic sanitation cause 80% of diseases and kill more people every year than all forms of violence, including war. Children are especially vulnerable, as their bodies aren't strong enough to fight diarrhea, dysentery and other illnesses. Just $20 can give one person access to a clean water project. Learn more at: http://www.charitywater.org
###