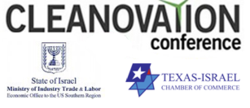 Cleanovation is now a do-not-miss event which exceeded our expectations. It provided my team with important relationship-building opportunities, access to fresh ideas, and was well worth our participation. – Jon Shapiro, CEO & Founder, T
Houston, TX (PRWEB) July 17, 2011
The Government of Israel Economic Mission to the US Southern Region in partnership with the the Texas-Israel Chamber of Commerce, will host the 2nd Annual Cleanovation on September 14, 2011 at Hotel ZaZa, Houston, TX. Last year's inaugural Texas-Israel Cleanovation emerged as one of the most important clean technology events focusing on energy efficiency & energy storage, water treatment, reclamation and re-use, smart-grid, solar energy, wind energy and more. This year's conference will surely be "a do not miss event" for decision makers, thought leaders and technology producers from around the globe.
With so much emphasis world-wide on conserving and creating more water, at the same time reducing energy consumption and finding more efficient ways to utilize energy, the Cleanovation Conference will bring these issues to the forefront and produce many business partnerships that will address these issues in the near future.
Please contact info(at)texasisrael(dot)org for more information or visit us at http://texasisrael-cleantech.org/cleanovation-conference-2011/ to register, view the current event agenda or to consider sponsorship opportunities. Early registration is available at a discounted price.
Prospective Attendees: Fortune 100, Public Sector, and select emerging growth companies.
Early committed attendees: GE Energy, Nokia Siemens Networks, Waste Management, Shell GameChanger, CPS Energy, Silicon Valley Bank, AT&T, IDE, Miya Water, Israel Cleantech Ventures, Alvarion, U.S. Army Environmental Office, Elbit Systems, Texas Institute, Pike Research, Center for International Energy & Environmental Policy, Environmental Defense Fund, and more.
Also in attendance: Power utilities discussing smart grid and energy efficiency, electric companies, electric distributors, infrastructure companies, integrators, smart meter manufacturers, big box retailers, and other large consumers of energy.
###