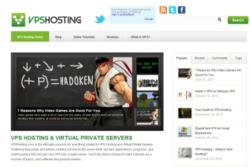 We wanted to become a knowledge hub for the VPS community, and I believe that's what we've done.
New York, NY (PRWEB) July 18, 2011
VPSHosting.com has just re-launched its entire site and format to include everything related to all aspects of VPS hosting. Users can now find everything they need to know about virtual private servers on one site.
In its new format, VPSHosting.com will feature a variety of content to help webmasters better understand the ins and outs of virtual private servers. A new VPS blog will focus on featured topics while VPS product reviews will help webmasters choose the best platform, operating system, web hosting control panel, or application for their needs. There are also video tutorials to help educated user on how to manage their hosting service.
"Choosing the right hosting provider and configuration is a big business decision, so with this re-launch, we wanted to offer user more than just a new interface," said Stuart Becher, founder and CEO of VPSHosting.com. "We also wanted to become a knowledge hub for the VPS community, and I believe that's what we've done."
VPSHosting.com now features resources on a variety of Virtualization Platforms, such as Microsoft Hyper-V, Parallels Virtuozzo, OpenVZ, KVM, VMware ESX, or Xen. The site also features content to help webmasters choose the operating system that's best suits their needs, whether it be Windows 2008 or various Linux/Unix Distributions, such as CentOS, Debian, Red Hat, openSUSE, or FreeBSD.
The Articles, Videos and Reviews will also discuss applications that can be used to enhance VPS Hosting services. These content areas will grow extensively in the coming months and span everything from hosting control platforms and billing platforms for resellers, to applications that make servers more versatile – such as VoIP, game servers, ForEx applications, developer and programmer related applications, and more.
With this latest release of VPSHosting.com, the site is already looking toward additional enhancement. Future plans currently under consideration include a community forum and a Wiki-based resource for all aspects of VPS hosting and technology.
For more information, please visit http://www.vpshosting.com/
About VPSHosting.com
VPSHosting.com is the leading online resource for everything related to VPS servers and hosting. Featuring video tutorials, expert reviews, and a VPS blog, the site offers users and webmasters in-depth resources to help them choose and manage VPS products that best suit their business needs. The site was founded in 2010 and has proudly been serving the hosting user community ever since.
###