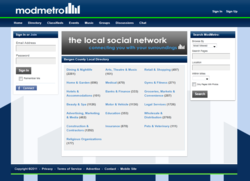 The Premier Local Social Network
Westwood, NJ (PRWEB) July 14, 2011
ModMetro, a revolutionary social network from YouShallThrive Inc., will connect users to local businesses in a completely new way. ModMetro breaks the traditional mold of a social network and incorporates an array of features and information revolving around local communities in order to provide more convenient online interaction and wayfinding.
ModMetro combines standard social networking with new features including a local directory and a classifieds section. These additional features present a conveniently integrated way for users to share regionally relevant information as well as interact with other local users and organizations.
The Local Business Review Directory
The directory allows businesses to be listed on the social network. These businesses are divided into categories based on the type of service they offer, and are searchable based on proximity as well as keywords. ModMetro's directory listings contain various pieces of information supplied by the business owner including location, contact information (website, telephone, email, etc.), photos, videos and other descriptive information.
Directory listings on ModMetro also have a ratings and reviews section. The star ratings and reviews on ModMetro allow users to voice their opinion about various businesses they have experience with, and share their thoughts with peers through the social network. The review directory, when paired with a fully integrated social network, will allow users to quickly find businesses that are relevant to their needs and determine the business' reputation.
The Local Social Classifieds
ModMetro's Classifieds section brings a new level of transparency to traditional classified advertising; advertisers' profiles are shown which gives users a better sense of security when going to meet up and respond in person. Classified listings can contain pictures, information blurbs, contact information, and users can even have discussions directly within the classifieds themselves. Just like with the directory, users can sort classified listings by location, finding only relevant, local listings.
Going Local - A New Frontier
Unlike any other social network, ModMetro has a built its core around local real-life communities. This platform is engineered to be relevant to users because it provides a way to integrate daily living with web and mobile technology. ModMetro is currently in a beta phase serving Bergen County, New Jersey. In the coming months, ModMetro will be expanding throughout the New York City metro area.
Contact
info(at)modmetro(dot)com
###