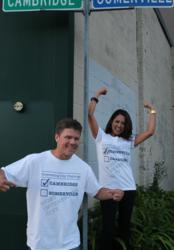 About the Somerbridge Smackdown: "We wanted to do something where everyone wins.", says eartheaded CEO, Phil Reavis
Somerville, MA
(PRWEB) July 14, 2011 -- To celebrate the launch of their new earth-conscious website, http://www.eartheaded.com, Somerville's eartheaded is ensuring that local charities reap the benefits of the SomerBridge Smackdown.
With the debate around the Most Interesting City heating up the summer, eartheaded is offering residents the chance to buy a "Team Somerville" or "Team Cambridge" 100% organic cotton tee. All proceeds from team sales benefit the city's charity – either the Somerville Homeless Coalition or Cambridge's MultiServices Homeless Shelter.
Made in the U.S.A, these fair trade t-shirts will be available at the Somerville ArtBeat Festival on July 16, 2011, and on shop.eartheaded.com.
"I grew up on the banks of the Charles River in Cambridge when it truly was 'the people's republic of Cambridge,'" said Phil Reavis, eartheaded's CEO. "Fast forward 30 years and I am now a father and the proud owner of a home in Somerville. When eartheaded heard about the SomerBridge Smackdown, we wanted to sponsor a contest where everyone wins."
The idea is an outgrowth of eartheaded's "In lieu of" program, available on eartheaded.com. In lieu of presents on a birthday or special occasion, users can create a custom eartheaded tee with their own design. Sales from the t-shirts then benefit the charity of their choice.
It's all part of eartheaded's larger commitment to raise social awareness and promote sustainability. Along with organic cotton tees, eartheaded offers Six Sigma-certified "lean" consultancy. Their corporate planners help businesses improve processes and lower costs with an eye on conservation and a respect for the environment.
"We're thrilled to have a website that reflects our broader mission," said Trecia Reavis, eartheaded's Executive Director. "On top of our products and consultancy services, we recognize normal folks doing exceptional things for the environment in our Earthfolk feature. We'll also soon be adding bags, hats and skincare to our organic product line."
About eartheaded®
http://www.eartheaded.com
http://www.facebook.com/eartheaded
eartheaded is an environmentally-conscious product and consulting company located in Union Square, Somerville. In addition to selling "green" apparel and advising companies on ways to lower costs by conservation, eartheaded partners with other socially progressive organizations to build innovative campaigns that advocate for a particular issue.
###