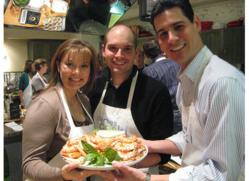 If you are looking for something different to do, join a cooking class with Parties That Cook. I learned quite a few new tips and short cuts for great entertaining recipes.
San Francisco, CA (PRWEB) July 14, 2011
Parties That Cook® (http://www.partiesthatcook.com), the nation's premier culinary events company, announced that it will be hosting its first ever Indian small plates cooking class. On Thursday, July 28th from 6:30 to 9:00pm, Chef Irfan Dama will lead the class through an upbeat hands-on cooking class, featuring a menu of deliciously exotic Indian dishes.
Chef Dama, new to the Parties That Cook team, will guide guests through the origins, flavors and tasting profiles of Indian spices. Originally from Mumbai, India, Chef Dama has worked in some of the finest kitchens of Five Star Hotels in India, Canada and the U.S. As a student of world cuisines, he loves to take classic concepts and techniques and infuse them with Indian flavors. In addition to leading Parties That Cook events, he owns Chef Dama's Kitchen, where he specializes in, but is not limited to, Indian-inspired fare.
After a lively introductory cooking lesson featuring tips and tricks that apply to the evening's menu of Indian appetizers, guests break into teams and get to cooking. Parties That Cook's professionally trained chefs will offer hands-on instruction as guests work together on recipes. Guests will have the opportunity to mix and mingle, and the atmosphere will be casual with conversation and upbeat music.
July 28 "Indian Summer" Menu:
Curried Chicken Sloppy Joes with Peanut, Green Chili & Cilantro Pesto
Crispy Vegetable Samosas with Mint-Jalapeno Chutney*
Indian-Spiced Flatbread with Mango Chutney*
Vegetable Curry Cups with Basmati Rice*
Spiced Lamb Burgers with Cool Cucumber Raita
*These items can accommodate vegetarians.
This event is perfect for singles, couples and groups of friends looking for an upbeat and educational night out. Tickets for Indian Summer Tapas and other cooking classes in San Francisco can be purchased online, or by calling 1-415-441-3595. Cost: $85 per person. Space is limited.
About Parties That Cook
Parties That Cook stages deliciously fun cooking parties and corporate team building events in private homes and professional kitchens throughout the San Francisco Bay Area, Chicago, Seattle and Portland, Oregon. Founder Bibby Gignilliat pioneered the in-home cooking party concept in 1999, and extended the company's hands-on, interactive culinary events to include a wide array of corporate team building events, cooking parties and cooking classes.
# # #