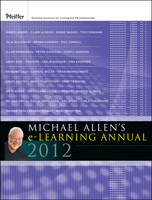 Every contributing author writes with conviction and a desire to help the industry develop outstanding learning experiences for the benefit of all!
Minneapolis, MN (PRWEB) July 14, 2011
Michael Allen, Chairman and CEO of Allen Interactions, announced today that his third Annual, Michael Allen's 2012 e-Learning Annual, is now available for purchase.
The field of e-learning continues to experience dramatic and turbulent growth. Over time, as technology has improved and the method's real capabilities have emerged, e-learning has gained widespread acceptance and is now the fastest growing sector of corporate learning.
As in years past, Michael Allen's 2012 Annual offers a diverse and important collection that contains some of the most current insights and best practices that will help both educators and workplace learning leaders address issues of design and implementation, as well as strategy and culture. This new volume offers a diverse mix of content that spans the full spectrum of technology-based learning.
"This is an amazing collection of papers—clearly enough to fuel many courses of instruction about e-learning," stated editor of The Annual, Michael Allen. "Every contributing author writes with conviction and a desire to help the industry develop outstanding learning experiences for the ben¬efit of all".
A free article from The Annual, "Don't Get Trapped by Your e-Learning Tools," written by Allan J. Henderson, author of The E-Learning Question and Answer Book and currently e-learning manager for business analytics in IBM's Software Group, is currently available. Henderson reminds readers that focusing on tools, whether consciously or by habit, means they are focusing on the wrong things. He suggests that relatively easy solutions abound and that many of those solutions are far more rapid than the touted rapid approaches.
"By placing so many viewpoints together, Allen has made it possible to do the classic 'compare and contrast' that helps develop insights and identify possibilities and strategies that fit our particular circumstances," explains Bill Brandon, editor of Learning Solutions Magazine for The eLearning Guild, in his book review. "The authors support all of the content with decision aids, tables, and figures that you will find useful not only for your own understanding, but also for explaining new concepts and ideas to others, including decision-makers".
Here is the list of contributing authors to Michael Allen's 2012 e-Learning Annual categorized by topic areas covered:
Going Mobile

Leslie Anne Kirshaw
David Metcalf, Nabeel Ahmad
Susan Smith Nash
Social Media

Tony Bingham
Frank Nguyen
Julia Bulkowski
No One Solution

Tom Kuhlmann
Anita Rosen
Reuben Tozman
Thomas A. Toth
Allan Henderson
New Perspectives

Peter Isakson
Bobbe Baggio
Marc Weinstein, Tonette Rocco, Maria Plakhotnik
Success Strategies

Martyn Sloman
Patti Shank
Tina Kunshier
T. Craig Montgomerie, Cathy King
Belinda G. Smith
Have Learners Changed?

Corinne Miller
Phil Cowcill
Cheryl Johnson
Simulation

Instructional Design

Bryan Chapman
Carla Torgerson
Clive Shepherd
About The Pfeiffer Annual Series
The Pfeiffer Annuals present each year never-before-published materials contributed by learning professionals and academics and written for trainers, consultants, and human resource and performance-improvement practitioners. As a forum for the sharing of ideas, theories, models, instruments, experiential learning activities, and best and innovative practices, the Annuals are unique. Not least because only in the Pfeiffer Annuals will you find solutions from professionals who work in the field as trainers, consultants, facilitators, educators, and human resource and performance-improvement practitioners and whose contributions have been tried and perfected in real-life settings with actual participants and clients to meet real-world needs.
About Michael Allen
Michael Allen is a recognized leader in the architecture and design of interactive multimedia learning systems and strategies. He is the chairman and CEO of Allen Interactions, which builds custom interactive learning solutions and provides consulting and training for interactive multimedia professionals. Allen Interactions will launch a new cloud-based authoring system and collaborative environment, ZebraZapps, in 2011, allowing developers and non-programmers the ability to create complex interactive applications with ease, as well as share, publish, and sell their inventions. Technology designed and built by Michael Allen led to the formation of Macromedia and revolutionized multimedia software development.
Allen holds a PhD in educational psychology from The Ohio State University and is an adjunct associate professor at the University of Minnesota Medical School. He has written four books including the best-seller, Michael Allen's Guide to e-Learning and his e-Learning Library Series – the third volume of this series, Learner Interface Design releases July, 2011. Additionally, he is editor of Michael Allen's e-Learning Annuals. Michael received ASTD's Distinguished Contribution to Workplace Learning and Performance Award in May 2011.
###