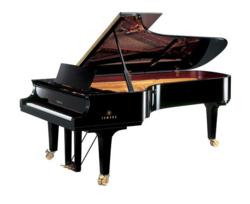 Yamaha is thrilled to support this wonderful and diverse range of music festivals across the United States, from the most established, such as the Newport Festival, to intriguing new ones, such as pianosonoma.
Buena Park, CA (PRWEB) July 15, 2011
Empowering pianists to reach the height of their musical creativity and potential, Yamaha Pianos will be featured on the stages and in the practice rooms at 19 prestigious music festivals throughout the summer of 2011. Joining forces with its valued dealer base, the world's largest music manufacturer will provide a remarkable fleet of keyboard instruments that includes uprights, practice pianos, digital pianos, the CFIIIS concert grand piano and the acclaimed, new CFX concert grand piano. Featured festivals include:
SongFest: (songfest.us) Set at Pepperdine University, an hour south of Los Angeles, Songfest is an intensive performing workshop designed to give singers, pianists, singing teachers and coaches the opportunity for in-depth study with distinguished artist faculty. Pianos for the festival were provided by Keyboard Concepts and Yamaha Artist Services.
PianoTexas: (pianotexas.org/) 2011 marks Yamaha's third year in support of the festival, which this year featured the complete 32 sonatas, piano trios and piano concerti of Ludwig van Beethoven. Pianos provided by Yamaha Artist Services, with support from Grand Staff Pianos.
Stony Brook International Music Festival (sbipf.org/home.html) 2011 marks Yamaha's first year in support of the festival, which is a unique program designed for middle and high-school students who are serious about piano study and who are considering majoring in piano performance at the college level. A preview event was webcast live from Yamaha's midtown piano salon on July 12.
Maverick Concerts: (maverickconcerts.org/) Maverick Concerts, established in 1916 in Woodstock, NY, is the oldest continuous summer chamber music concert series in America, and its concert hall is a National Historic Site.
Piano e-Competition: (piano-e-competition.com/) During the Piano-e-Competition, participants have the opportunity to perform on the Yamaha DCFX concert grand piano. Equipped with state-of-the-art Disklavier Pro recording technology, this pioneering system fuses the acoustic piano with computer electronics and allows all solo rounds of the competition to be downloaded via MIDI to be enjoyed anywhere in the world.
Wolf Trap: (wolftrap.org/) A typical season at Wolf Trap includes something for everyone with performances ranging from pop, country, folk, and blues to orchestra, dance, theater, and opera, as well as innovative performance art and multimedia presentations. Instruments will be provided by Yamaha Artist Services, with support from Jordan Kitt's Music.
Newport Music Festival: (newportmusic.org/) The 43rd season of the Festival continues the tradition of presenting unique chamber music programs and American debuts in a festival that has achieved worldwide renown as one of the leading chamber music events. Instruments are provided by Yamaha Artist Services and Yamaha Corporation of America, with support from Piano Gallery of Rhode Island. Select concerts were streamed by Yamaha on the worldwide web, live from the Newport mansions.
pianoSonoma: (pianosonoma.org/) Set in California's beautiful Sonoma Valley, pianoSonoma is a summer festival dedicated to educating adult musicians and enriching their artistic lives through a week-long session of private lessons, chamber coachings, technical and theoretical training, and public performances at the vineyards. The pianos will be provided by Yamaha Artist Services, with support from Music Exchange.
Vail Valley: (vailmusicfestival.org/) Nestled in the magnificent Colorado Rocky Mountains, and combining world-class orchestras, world-class soloists and world-class venues, the festival stands apart as one of the leading festivals in the country. Artistic Director Anne-Marie McDermott opened the festival with a recital on the CFX piano provided by Yamaha Artist Services.
Marina del Rey Summer Concerts: During the summer, Marina del Rey hosts a free classical and pop concert series on the water at the beautiful Burton W. Chace Park. Four of the concerts feature the 75-member Marina del Rey Summer Symphony.
Met Opera Summer Park Concerts: (metoperafamily.org/metopera/news/features/detail.aspx?id=8592) One of the most beloved summer traditions in the city, this year's Series kicked off with a concert at Central Park SummerStage on July 11, featuring rising opera stars soprano Angela Meade, mezzo-soprano Jennifer Johnson Cano and tenor Dimitri Pittas.
Breckenridge Music Festival: (breckenridgemusicfestival.com/) Presenting premier performances in Colorado's scenic high country, the year-round programming includes the Summer Festival, featuring the Breckenridge Music Festival Orchestra. Instruments are provided by Yamaha Artist Services with support from Baker's Piano Center.
International Keyboard Institute and Festival: (ikif.org) Now in its 13th season, the prestigious International Keyboard Institute & Festival, held at New York's Mannes College, includes a range of concert and Master Class events, including the young artist Prestige Series, and the evening Masters Series concerts. Yamaha Artist Services will provide a CFX concert grand piano.
Gijon International Piano Festival: (gijonpiano.com/home.html) Set on the spectacular north coast of Spain, the festival offers advanced pianists the opportunity for 13 days of intensive master classes, recitals, orchestra concerts and private instruction with internationally known pianists.
Tanglewood Music Festival and The Boston University Tanglewood Institute: (tanglewoodmusicfestival.org/) BUTI is recognized internationally as the premiere summer training program for aspiring high school-age musicians and is the only program of its kind associated with one of the world's great symphony orchestras. Pianos will be provided by Yamaha Artist Services, Falcetti Music, and Piano Gallery of Rhode Island, with assistance from Fry's Pianos.
River Concert Series: (riverconcertseries.org/) Now in its 13th year, the festival is held at St. Mary's College of Maryland. Pianos are provided by Jordan Kitts Music.
Salt Bay Chamberfest: (saltbaychamberfest.org/) Cutting across a large swath of musical styles, the programs at Chamberfest embrace music from the Renaissance to the present day and regularly feature the music of living composers. Piano will be provided by Darrell's Music House.
Sanibel Music Festival: (sanibelmusicfestival.org/) The mission of the Sanibel Music Festival in Florida is to present classical music of the highest standard and to promote the careers of emerging artists through performance opportunities at affordable prices. Piano provided by Piano Distributors.
The Washington International Piano Festival: Founded by Yamaha Artist Nikita Fitenko, the Washington International Piano Festival will take place on the beautiful campus of the Catholic University of America, as well as at the Kennedy Center for the Performing Arts. (http://www.washingtonpianofest.com) Yamaha Artist Services is providing a CFX concert grand piano.
According to Bonnie Barrett, Director, Yamaha Artist Services, Inc. "Yamaha is thrilled to support this wonderful and diverse range of music festivals across the United States, from the most established, such as the Newport Festival, to intriguing new ones, such as pianosonoma. I am equally delighted that many of these venues will allow so many more concertgoers to enjoy Yamaha's magnificent new CFX concert grand piano."
Introduced in January 2010 in the United States, the 9' CFX concert grand is Yamaha's flagship concert grand model. Incorporating the sum total of Yamaha's piano manufacturing expertise and technology, the new model replaces the acclaimed CFIIIS concert grand piano. In addition to drawing on its 108-year heritage of manufacturing the world's finest pianos, the instrument represents 19 years of research and development conducted by Yamaha craftsmen, designers and engineers, to create this extraordinary handcrafted piano. The process culminated with a series of top-secret, in-depth evaluation sessions conducted in New York, Paris and Tokyo with top artists and Yamaha artist services over the last few years.
For more information, write Yamaha Corporation of America, P.O. Box 6600, Buena Park, CA 90622; telephone (714) 522-9011; e-mail infostation(at)yamaha(dot)com; or visit http://www.yamaha.com/press.
About Yamaha
Yamaha Corporation of America is the largest subsidiary of Yamaha Corporation, Japan and offers a full line of musical instruments and sound reinforcement products to the U.S. market. Products include: acoustic and digital pianos, portable keyboards, guitars, acoustic and electronic drums, band and orchestral instruments, marching percussion products, synthesizers, professional digital and analog audio products, and innovative technology products targeted to the hobbyist, education, worship, professional music, and installation markets.
###